Elmo Has a Rescue Dog Now — But There's a Deeply Weird Catch
Elmo's new dog is neither muppet nor canine. Discuss.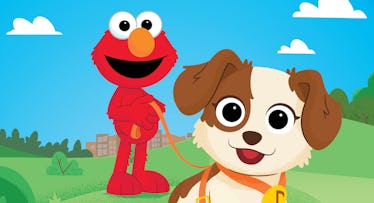 Credit: Sesame Workshop
Editor's update: We are happy to report that after this article ran, we've received word that Tango will appear as an actual muppet dog in Season 52 of Sesame Street this fall.
Tango's animated debut is just the beginning. However, the idea of a muppet that exists outside of the confines of being an actual muppet is still, arguably, weird. Therefore, the original article continues below. onlyFrank OzSesame StreetminusworseYodaFurry Friends Forever: Elmo Gets a Pup, seeElmo's WorldSesame StreetRowlf the Dogneithercartoon-only versions of muppetsvery unlikeableWorld,realitysureMuppet BabiesrealweirdMinority Report-now a podcast-only muppet named "Foley,Roald Dahl
see
Furry Friends Forever: Elmo Gets a Puppy will debut on Thursday, August 5 on HBO Max.