4-Year-Old Ellie Farmer is the Future of America's Olympic Rock Climbing Team
As the Olympics add climbing to its schedule, Ellie could be the sport's future.
by Jay Egger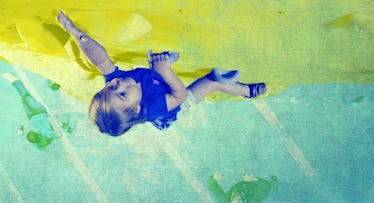 Instagram/littlezenmonkey; Fatherly Illustration
With parental supervision, an average four-year-old might conquer the schoolyard jungle gym. Ellie Farmer is not an average four-year-old. Known to the internet as Little Zen Monkey, Farmer is already scaling 50-foot rock walls and working the talk show circuit. Farmer broke through in 2015, when a video of her scaling a 7-foot faux cliff went viral. At the time, she was only 19 months old, but she'd spent the entirety of her young life watching people climb.
"I'm a climber and Zak is a climber, so of course my kid is a climber," says Rachael Farmer, Ellie's mom. "I posted that first video on social media mainly for the grandparents and someone shared it to the right – or wrong depending on how you think of it – person. I almost deleted it after it had millions of millions of views."
The video landed Ellie a guest spot on The Ellen DeGeneres Show, where she climbed a studio-made wall for the crowd. She nailed it, but the Farmers weren't ready to go all in on with a publicity blitz. Despite being offered the opportunity to go on a global media tour, Rachael and Zak opted to let their daughter train for a few months at a climbing gym in Flagstaff. They have now settled in Bend, Oregon, where they're working on Ellie's skills and development.
In a sense, Ellie is the product of climbing. Zak was Rachael's coach when she was still on the competitive circuit. That relationship evolved over the course of six years, leading to marriage and Ellie herself. The Farmers are so serious about climbing that Rachael placed first in a local climbing competition while she was 14 weeks pregnant with Ellie
"There's maybe a four-day gap where Ellie wasn't connected to the climbing world," said Zak. "Rachael and I went back to the climbing gym quickly after she gave birth, taking Ellie with us most of the time."
Zak even built a short bouldering wall in Ellie's nursery that quickly piqued her interest. Ellie first learned how to traverse the wall with her feet on the ground, but quickly transitioned into full-on climbing. They say you need to crawl before you walk — you don't by the way — but Ellie went straight into climbing.
But Ellie isn't just precocious. She's grown to be hardworking. She loves climbing and is about to start competing. Ellie is improving her skills as a climber every day with the help of positive reinforcements from her parents, as well as a resource-heavy gym in Bend, Oregon. She is eager to begin her competitive career against fellow youth climbers; she's begun fleshing out her full set of skills with strength-building exercises like full bodyweight dips. If this gives you an eerie feeling of the success-at-all-costs storyline of I, Tonya, you can drop your concerns. The Farmer family makes sure that enjoyment is the No. 1 factor
"Our very first goal is to keep this fun and spontaneous," said Rachael. "We don't want this to become something that would change her or our family."
However, if Ellie does want to pursue climbing as an athletic career, she's coming up at the exact right time. In 2016, the International Olympics Committee announced that climbing will be added as an event in the 2020 Olympics in Tokyo. While Ellie has a head start on the next generation of young climbers, it will take a lot of work to even begin considering the Olympics as a reasonable goal. However, with climbing's inclusion in the games will come a renewed focus on coaching and facilities for young climbers like Ellie.
"The athletes keep getting younger and younger. It's a lot like gymnastics in that sense," said Rachael. "You show up to climbing competitions, including USA Climbing Nationals, and some of the competitors on the podium are teenagers."
Although Ellie is hoping to begin competing when she turns six years old, climbing isn't the only sport in her arsenal. She loves to play soccer, is learning Shodokan Aikido, and has begun swimming lessons. Outside of sports, Ellie loves singing (her favorite song is "You Are My Sunshine"), painting, and playing with strange dogs. She's a boisterous kid, not a social climber, but an easy conversationalist.
Will Ellie grow up to be a legendary climber? She's got natural talent and a support system in place. But, even so, legend status is something that you have to decide to chase. Mom and dad can't want that for you. They can only be open to it. They can only create opportunities for excellence. They can only show how to get to the summit.
"If you give children the capacity to do really rad things, sometimes it is completely with them," she said. "We've been surprised by Ellie multiple times. You just have to say, 'You go kid.'"
This article was originally published on