Eddie Van Halen Gave Us the Best Kids' Song Ever
One of the first songs my toddler jumped to was Van Halen's "Jump." This song was a gift to the world and to kids and parents everywhere.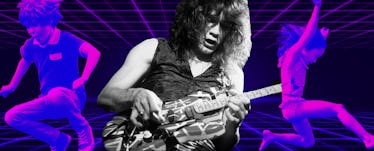 GETTY
At the age of 65, Eddie Van Halen has died. It's a young age for anyone to die, and it seems criminal considering the legendary rock star died from throat cancer, which he battled for a decade. As the world mourns the loss of this totally brilliant guitarist, a lot of people will be blasting perhaps the most popular Van Halen song of all time, "Jump." For families, this song isn't just a good rock song, it's totally the best rock song for kids — ever.
"Jump" was released in 1983. I was exactly 2-years-old when the song came out. Do I remember listening to "Jump" at two? I feel like I do. For kids born in the '80s who came of age in the '90s, "Jump" is one of those songs that you learn right along with "Twinkle, Twinkle, Little Star." The best part is that when you grow up, you still fucking love this song. It's not complicated, it's not brilliant, but it does exactly what it says it should do. Calls to action in songs are tough to incorporate into your daily life when you become a parent. I mean, I can't fight for my right to party, because I forfeited that right the second I became a dad.
"Jump" is the exception to this rule. It's a song that can make you feel like an adult and a kid at the same time. And I'll never forget when my daughter first heard the song. She was about 13-months old and walking more than she was talking. But, she understood the song. She understood what she was supposed to. She got up. She jumped. A lot. The beginning of dancing for kids is often jumping, and Van Halen's music is the soundtrack to that memory, for me, and countless other families.
It's fun to remember that "Jump" is the song where Van Halen, the band, kind of sold out. Instead of a guitar driving the song, those epic synth-pop keyboards are what makes the song what it is. Eddie Van Halen wrote the synth line for this song in 1981, but David Lee Roth, and the rest of the band Van Halen, at first, rejected it. Later, Roth came up with the lyric "might as well jump," but, let's face it, the lyrics themselves wouldn't make you or your kid want to jump without the music, without the synth. David Lee Roth might sing "Jump," but it's the music, that synth keyboard that makes the song immortal.
A lot of rock aficionados will tell you about Eddie Van Halen's musicianship and his brilliant solo on "Beat It," or "Dance the Night Away," but the fact that he wrote the music to "Jump" (which he said he borrowed from Hall and Oates!) is the thing that will live on. If you were making a Golden Record for your kid, that contained songs they have to hear and dance to, "Jump" would be on that record every time.
It's very sad that Eddie Van Halen has died. It's never good news when a rock legend passes away. But, he gave us, and our kids, "Jump." And for that, we can still dance right now. Might as well, right?
This article was originally published on