Watch Eddie Murphy's Most Underrated Family Movie Before It Leaves HBO Max
This one is worth another look.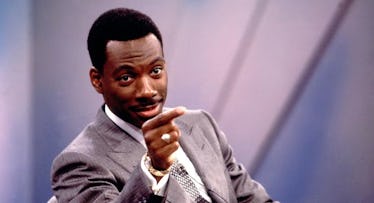 Paul Natkin/WireImage/Getty Images
Is there a Hollywood career more unlikely and unusual than Eddie Murphy's? Murphy burst onto the entertainment landscape on Saturday Night Live in 1980, blazed a trail on the standup comedy scene, and then segued into movies. His comedy was no-holds-barred, controversial, often in the mode of his hero and friend, Richard Pryor, and his early movies reflected that: 48 Hrs., Trading Places, Beverly Hills Cop, and Eddie Murphy: Raw. Murphy then went more mainstream: Coming to America, Beverly Hills Cop II, Another 48 Hours, Boomerang, The Distinguished Gentleman, etc., with the ambitious if imperfect Harlem Nights and A Vampire in Brooklyn the main exceptions during that period.
And then, suddenly, in 1996, Murphy decided to focus on family films. It probably had something to do with the fact that by then five of his 10 children were born. He likely wanted to make films they could see their dad in. First up was The Nutty Professor, a comedy remake in which he played more than a half dozen roles, with his appearance altered by state-of-the-art visual effects and Oscar-winning makeup and prosthetics. Then came Dr. Dolittle (1998), Mulan (1998), Nutty Professor II: The Klumps (2000), Shrek (2001), Dr. Dolittle 2 (2001), the disastrous The Adventures of Pluto Nash (2002), Daddy Day Care (2003), and The Haunted Mansion (2003), Shrek 2 (2004), Shrek the Third (2007), Meet Dave (2008), Imagine That (2009), and Shrek Forever After (2010). Meanwhile, most of Murphy's more adult films – with the very notable exceptions of Bowfinger (1999) and Dreamgirls (2006) – proved to be box office and critical disappointments. These include Metro (1997), Holy Man (1998), Life (1999), Showtime (2002), I Spy (2002). The outlier was Norbit (2007), a critically reviled comedy that turned out to be a box office smash.
Imagine That is emblematic of Murphy's nearly 15-year-long period of making family films. And though it opened before Shrek Ever After, it was produced after the long-gestating animated Shrek finale, which makes Imagine That the actor's last family film or at least his last live-action family film. Imagine That is streaming now on HBO Max but will be leaving on March 31. It's worth a look. It's an ambitious, if lightweight tale of a workaholic dad, Evan Danielsen (Murphy) whose young daughter, Olivia (Yara Shahidi), can see the future thanks to a magical blanket and several imaginary friends. Olivia's abilities help Evan at his job as a financial investor, and the timing couldn't be better, since a newbie arrival, Johnny (Thomas Haden Church), is nipping at his heels to be the company's star employee.Karey Kirkpatrick earned his live-action directing debut after writing and directing the Disney animated hit, Over the Hedge, and writing the likes of James and the Giant Peach, Chicken Run, Charlotte's Web, and The Spiderwick Chronicles. Though silly and predictable, especially for adults, it's a charming kids' movie co-produced by Paramount and Nickelodeon. Evan and Olivia happen to be black, but he's just a dad and she's just a child desperate for her father's attention. Imagine That clicks best when Murphy and Shahidi share the screen, which is a solid chunk of the proceedings. She's a natural and brings out the best in Murphy. And despite a stellar supporting cast that includes Nicole Ari Parker, Ronny Cox, Martin Sheen, Marin Hinkle, and Stephen Root, it's the scenes without the Murphy-Shahidi combo that falls flat.And to bring everything full circle, Shahidi is 22 years old now and graduated from co-star of Black-ish to leading lady on its spin-off, Grown-ish. Murphy, on the strength of Dolemite Is My Name and Coming 2 America, is back in the game. He just wrapped production on an upcoming Netflix movie called You People, which co-stars Jonah Hill, Julia Louis-Dreyfus, Mike Epps, Nia Long, and David Duchovny. It's co-written and directed by Kenya Barris, creator of Black-ish and Grown-ish. Say it with us… Imagine that!Imagine That is streaming on HBO Max until March 31.