Easy DIY Halloween Costumes for Kids and Families
You're late on your costume game. Here's some last-minute ideas you can do at home.
by Rebecca Jane Stokes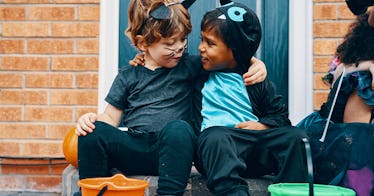 It's late October and you're settling into your nice warm bed to get (fingers crossed) a good night's sleep. But then, it hits you: October 31st is sneaking up and that's not just any other day, it's Halloween! The only answer to this problem is a fast, easy, DIY Halloween costume for you or your kiddos that you can do yourself at home. But chances are you're already too groggy and panicked to conjure up any good ideas. That's where we come in! Check out these easy DIY Halloween costumes for kids or families. You can do this!
Clark Kent
It's a bird! IT's a plane! No, it's your toddler in his superman shirt, non-prescription glasses, and a button-down shirt mostly unbuttoned. You probably already have everything you need at home to complete this look emulating Superman's alter-ego, Clark Kent.
Ted Lasso Cast
Ted Lasso is everyone's favorite feel-good show, and while it might not be something that your kids adore, dressing them up as different cast members from the show is a quick, DIY costume guaranteed to make folks smile. Invest in a soccer uniform (if you don't have one already) and creating a Ted is as simple as a mustache and some shades.
Haunted House
The only thing scarier than walking into a haunted house? BEING the haunted house, of course! Just raid your art supplies and let your imagination do the heavy lifting. If you're looking a few tutorials to get you started making a haunted house costume yourself, we've got you covered there too.
Where the Wild Things Are
You don't need much to put together a killer costume to dress your kid up as Max, the star of Maurice Sendak's classic tale, Where the Wild Things Are. Animal hoodies for kids are a dime a dozen, and tails are easy! The real capper on this one is a gold crown of course. The monsters need to know who their ruler is, after all.
Care Bears
To perfect this Halloween classic you'll need the whole family for the best effect. All you need are some hoodies, bear ears, white fabric, sharpies, and the desire to perform the Care Bear stare at a moment's notice. Care Bear costumes tutorials abound should you need inspiration.
Minions
Who doesn't love a Minion? The Despicable Me movies most memorable kooky characters, after all. They also happen to be one of the easiest super last-minute DIY Halloween costumes. Just a simple pair of overalls, a yellow turtleneck and add some goggles, you're all set. Check out tutorials for Minions costumes for pointers.
Bar of Soap
Keep it clean this Halloween and dress up yourself or your kids as bars of soap! All you need to make this costume are some white balloons, craft paper, markers, and adhesive. No one can say you're short on imagination if you pull this one out last minute! It's sure to leave a squeaky impression.
This article was originally published on