'Dune' Has Been Delayed Until 2021. But We'll Pay For It On VOD Streaming Right Now
The streaming video-on-demand, must flow. Let's get some 'Mulan' action for Dune on HBO Max.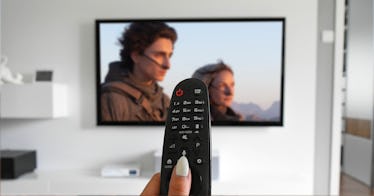 Been there, Dune that.
Denis Villeneuve's highly anticipated big-screen take on the seminal novel by Frank Herbert is following in the footsteps of so many other would-be movie theater saviors – such as Black Widow, No Time to Die, and West Side Story — and shifting to 2021. As it stands, the sandworms won't turn and the spice won't flow until October 1, 2021.
But, should that be the case?
Universal chose to mostly bypass theaters with Trolls World Tour, though it did play at a modest number of drive-ins, and the film grossed more than $100 million in PVOD in just a few weeks. Warner Brothers scored a hit as well with Scoob!. And then there's Mulan. Disney saw the demand for the live-action iteration of its 90s animated classic and leveraged Mulan to bolster its fledgling streaming service. And they made a mint. If we break that down a bit, Mulan benefitted from something of a perfect storm. The Disney marketing machine was already in overdrive in anticipation of the film's original March 2020 release. Then, as the months passed and the pandemic continued on unabated, parents yearned for more family fare and Disney took the streaming plunge with Mulan last month.
Dune is most definitely not a family film. Even in normal times, there'd be no guarantee that its stellar cast – which includes Timothee Chalamet, Zendaya, Rebecca Ferguson, Oscar Isaac, and Josh Brolin – would draw the massive crowds it'd take to nudge the costly sci-fi epic into the box office stratosphere. And while director Villeneuve is wildly talented, there's no denying that Blade Runner 2049, another expensive genre outing based on an existing and beloved IP, underperformed in theaters. Oh, and let's not forget that David Lynch's equally loved and loathed Dune bombed.
So, Warner Brothers could roll the cosmic dice and release Dune domestically on PVOD, on HBO Max or elsewhere, and theatrically around the world. Hardcore sci-fi and Frank Herbert fans are excited, as proven by the popularity of the recent Dune trailer that spent an impressive amount of time at #1 on YouTube. Adults want to see actual movies again, too, and Dune might quench that thirst… at home. And with VOD currently laden with so many bad B-movies starring former A-listers, the time really is now. The people who want to watch Dune will pay for Dune on demand.
The studio might be afraid of a streaming-only Dune, but as the Litany asserts, "I must not fear."