Drunk Uncle is Dead! Long Live Drunk Uncle!
Bobby Moynihan's "Drunk Uncle" is leaving SNL.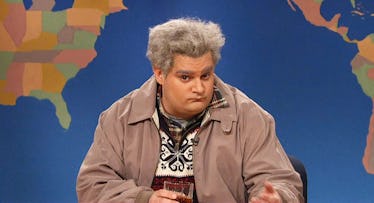 Saturday Night Live veteran Bobby Moynihan announced that he'll be leaving the series at the end of this season. Moynihan's final appearance as a cast member will be this Saturday, as the 42nd season finale airs with Dwayne Johnson. Moynihan has nine years of memorable moments and characters, but it was his Drunk Uncle we'll miss the most. Not only was the slurring Weekend Update character just off-beat funny, he was a constant reminder how everyone has some version of that character in their own family.
Drunk Uncle is a man trapped in his own time. He regularly appeared in a tan windbreaker on top of a seemingly Christmas themed quarter zip-up sweater. He sang random '80s pop hits and was always on the verge of tears. Uncle used his Weekend Update appearances as a platform to complain about "these kids today". And he always got the current generation wrong: "Is that Amazon Prime pumpkin spice?" Or "Is that Go-Pro farm to table?" Drunk Uncle was always a man angry at the modern culture that left him behind. It's a trope, yes, but Moynihan executed the character's range of rage, fear, and regret perfectly. It never became tiresome like Garth and Kat or overused like "The Girl You Wish You Hadn't Started a Conversation With at a Party".
And his Drunk Uncle was true. For instance, he wore his casual racism like one of his Christmas sweaters. From slowly wheeling his seat away from Update co-host Michael Che to calling his tax guy "Huey Lewis and the Jews", Uncle was the family black sheep. Unfortunately, that brash line of thought was not too far removed from my own drunk uncles. Granted, they sounded a bit more like Tracey Morgan's Dominican Lou but I would often feel like Seth Meyers or Colin Jost, attempting to quiet them down at the dinner table. Of course, my efforts were always thwarted because my uncles were drunk. They were also insufferable to exhausting, as is often the case.
Moynihan's impression succeeded because he maintained the innate quality of the drunk uncle while also bringing humor to it. It was silly, yes, but it was true. There's no word if Moynihan will don the Drunk Uncle wig for a final time this weekend but it'd be a shame if he didn't. It was always fun watching him slur through something.
This article was originally published on