Why These 6 Books Were Cancelled By the Dr. Seuss Estate
Some of the works of Theodor Geisel maybe aren't as great as you think.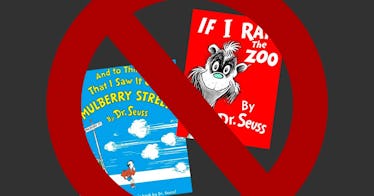 Dr. Seuss Enterprises
Censorship is bad, except when you're reading a book aloud to a 3-year-old. Look, I love Ray Bradbury's Fahrenheit 451 because I recognize the problem with blaming the problems of society on some racy books. If you start a one-size-fits-all-approach to deciding which books are "good" and which books are "bad," then suddenly, you're no better than the people who burn all books in an imagined Bradbury dystopia. Right?
Not exactly. Parents and caregivers wield those Bradbury flamethrowers all the time when we decide we're not going to read a book out loud to kids anymore. Sometimes it's because the books just outright suck. I mean, I wish I had Guy Montag's flamethrower for a few books in my house, such as Paw Patrol's Potty Patrol. Seeing that book in flames would bring me a lot of pleasure, and I'm not sure the civil liberties of the Paw Patrol pups would be infringed. The point is, parents and caregivers often act as censors for the books their kids read. And, when it comes to the works of Dr. Seuss, it's probably a good idea to stop pretending like the works of Theodor Geisel are synonymous with universally good kids' books.
Recently, some far-right media outlets like Breitbart have claimed that Virginia public schools have "canceled" Dr. Seuss because Dr. Seuss was racist. More mainstream outlets like Deadline repeated this news. First of all, this is untrue — Virginia public schools did not bust-out Bradbury's flamethrower. Zero books have been banned. Instead, public schools in Virginia have sought to deemphasize the connection between "Read Across America" and Dr. Seuss's birthday, both of which fall on March 2. President Biden also reportedly didn't mention Dr. Seuss when he spoke about Read Across America. Is not mentioning Seuss canceling Seuss? Obviously not. Neither Biden nor the school admins in Virginia have banned or canceled Dr. Seuss. They're just not shining a spotlight on decades-old kids' books that, in many cases, are outdated, and just straight-up racist.
Now, here's something though, several Dr. Seuss books are canceling themselves. Last year, Dr. Seuss Enterprises, decided that it would cease publication of six different Dr. Seuss books, including the following.
And to Think That I Saw It on Mulberry Street
If I Ran the Zoo
McElligot's Pool
On Beyond Zebra!
Scrambled Eggs Super!
The Cat's Quizzer
A statement issued by Dr. Seuss Enterprises to The Associated Press, read, in part:
"Dr. Seuss Enterprises listened and took feedback from our audiences including teachers, academics and specialists in the field as part of our review process. We then worked with a panel of experts, including educators, to review our catalog of titles…These books portray people in ways that are hurtful and wrong. Ceasing sales of these books is only part of our commitment and our broader plan to ensure Dr. Seuss Enterprises' catalog represents and supports all communities and families"
What does that mean? That Dr. Seuss Enterprises is saying they're not going to make any new money off of new copies of those books that are printed going forward. Effectively, these six books — which are nobody's favorite, come on, will simply not be printed in new editions in 2021.
That's not to say there isn't a deeper issue with Dr. Seuss. It's not as if he just accidentally was racist those six times. As reported in The Washington Post, in a recently republished interview with children's literature scholar Philip Nel, author of Was the Cat in the Hat Black?, the issue with Dr. Seuss is pretty clear. Yes, many of his books have seemingly progressive egalitarian values, but, the overall body of his work is inconsistent. "During the same decade The Cat in the Hat was published, Dr. Seuss was both speaking out against racism and recycling racist caricature in his books," Nell told The Post. "Seuss's career is a great example of the insidiousness of racism… At the same time, he's doing powerful anti-racist children's books, he's also recycling racist caricature."
Nell points out that aspects of the Cat in the Hat present aspect of racist caricatures that are super-pervasive. That said, Nell doesn't think the Cat in the Hat is racist per se, but instead, simply points out that the Cat in the Hat is the tip of the iceberg. And that's because many of Dr. Seuss's books are straight-up racist. Many of his political cartoons were, too, but luckily parents don't need to worry about running into those at the library or bookstore.
The point is, there are scenes from those six books that will horrify you if you run across them in a bookstore or library. If I Ran the Zoo seems innocent enough, right? ? Just a kid talking about things he'd put in a zoo. That is until he talks about putting people from non-white countries in the zoo. This isn't a joke. The narrator thinks it's funny to lock-up-people in the zoo because they're just like animals. There's no lesson or moral. It's just something that happens in this book. And To Think I saw It On Mulberry Street and Scrambled Eggs Super! both feature obvious racist caricatures, that make the offensive stuff in Breakfast at Tiffany's look tame. There are also whiffs of colonialism in On Beyond Zebra and If I Ran the Zoo. You get it.
Again, in terms of the problematic nature of Seuss, these six books, are, in many ways, the tip of the racist iceberg. No one is suggesting that all Seuss's books be banned or burned, but parents have the power to keep bad prose away from their kids all the time. Nobody wants to bum anybody out by taking away Mulberry Street, but let's face it: These books are all super-old. And you can keep Green Eggs and Ham, and literally dozens and dozens of other Dr. Seuss books.
If you're looking for some great books for Read Across America, and you're a bit fed up with Seuss, take a look at these recommendations.
8 Fairy Tale Retellings You Won't Hate Reading To Your Kids
17 Best Books to Read Aloud To Kids
8 Great Picture Books To Help You Talk to Your Kid About Elections
This article was originally published on