'Donkey Hodie' Expands the Fred Rogers Universe
The newest Fred Rogers spin-off goes back to its puppet roots.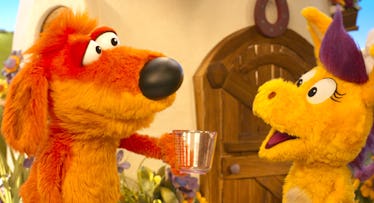 Credit: Fred Rogers Productions/PBS Kids
If you love the tone and whimsy of all things Fred Rogers, but sometimes the animation style of Daniel Tiger doesn't quite remind you of your own childhood, there's some good news. The next series from Fred Rogers' Productions is Donkey Hodie, a new kids show that gets back to the puppeteering roots of the original Mister Rogers' Neighborhood.
Well…maybe not exactly like the classic Mister Rogers. While Donkey Hodie does bring back some more old-school puppets, it also feels contemporary and relevant for kids now. The characters are quick and the situations are fun. To be clear, just like Daniel Tiger is supposed to be the son of the OG puppet Daniel Tiger, this new Donkey Hodie is the granddaughter of the puppet Donkey Hodie from the classic Land of Make-Believe.
It's been a while since Fred Roger's Productions launched an entirely new show like this, and considering the success and overall positive impact of Daniel Tiger, the start of Donkey Hodie could be another big game-changing moment. Fatherly is proud to present an exclusive clip from Donkey Hodie, which you can watch right here.
Donkey HodieWatch Donkie Hodie here.
This article was originally published on