'Lego Movie 2' Mercifully Does Not Have a Post-Credits Scene
No need to sit through the credits on this one.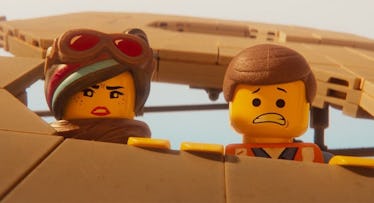 Will there be a Lego Movie 3 after the release of The Lego Movie 2: The Next Part? The answer is maybe, but there's really nothing in this new Lego Movie to make you think anything specific will happen in a potential sequel. What that means, is there is no reason to stick around through the credits.
Hitting theaters this weekend, The Lego Movie 2: The Next Part, is a direct sequel to the original movie that spanned the "Everything is Awesome" song, and various big-screen Lego movies, too, most notably, Lego Batman. And while The Lego Movie 2 improves are various things for the first movie (maybe it's better) it doesn't beg for a sequel. And that's mostly because there is no post-credits scene teasing what's to come. So, if you and your kids are exhausted after the high-energy antics in The Lego Movie 2, you can make a beeline for the exit and the restrooms as soon as the film is over. You're not going to miss a thing.
The Lego Movie 2 is directed by Chris Miller and Phil Lord, the pair who made the first Lego Movie, too. In some ways, this film represents their comeback, since they were controversially fired from directing Solo: A Star Wars Story in 2017. Subsequent to that, Ron Howard directed Solo with mixed critical and financial results. The point is, Miller and Lord are certainly well-suited to The Lego Movie material, but after seeing the sequel, you'll probably be wondering what they'll do next? Can this creative team keep making this kind of movie?
Because The Lego Movie 2 isn't terrible, if Miller and Lord do keep making this exact same kind of movie, that's probably fine for families. Though, you will be exhausted after you see it.
The Lego Movie 2: The Next Part is out everything in theaters this weekend.
This article was originally published on