Dixie Youth Baseball is Spoiling for a Fight With Little League
Wes Skelton, the commissioner of the Dixie Youth Baseball, wants his players to face the best Little League has to offer. He thinks they'll win.
by Dave Baldwin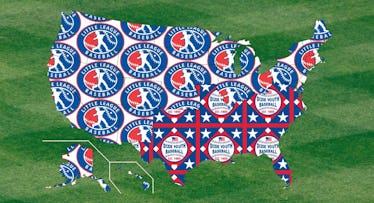 In thousands of small towns across the American south ⏤ from Pascagoula, MS to Lumberton, NC ⏤ kids don't play Little League baseball. They still shag fly balls, field grounders, and steal bases, but there's no trip to Williamsport at the end of the summer and no one dreams of defeating Japan in the Little League World Series. For these hundreds of thousands of Southern kids, the dream is to get to a world series in Bartow, Florida or Oxford, Alabama, where the competition is no less fierce for being untelevised. These young players play in an exclusively southern baseball league that's existed for over 60 years yet remains largely unknown above the Mason-Dixon Line: Dixie Youth Baseball.
RELATED: 5 Little League Drills That Teach Players to Hit and Field
Founded in 1955 when 61 youth baseball teams from seceded from Little League after being asked to compete with an all-black team from Charleston, Little Boys Baseball, as it was originally known, quickly caught on in South Carolina. By 1956, it had expanded to eight states and was thriving while pushing an explicitly racist agenda. When the league was forcibly integrated in 1964, players stuck around. Either despite or because of its history, the Dixie League kept attracting players, including young girls who were invited to join starting in 1972. Today, Dixie League covers 11 states and is one of the largest of the eight major youth baseball leagues across the country.
Wes Skelton has been commissioner of Dixie Youth Baseball since 1995. He didn't play in the league ⏤ it wasn't in West Texas at the time ⏤ nor did he have children who did. But he's been involved in the all-volunteer organization (there are no paid salaries) for almost 40 years. Fatherly recently spoke to Skelton from his office Marshall, Texas, about a wide range of topics, from the league's controversial origins, to potential league mergers and expansion, Michael Jordan's dramatic 1975 run through the Dixie Youth World Series and why Southern baseball players may just be more skilled than their northern counterparts.
Dixie Youth Baseball League was founded as a racist organization. How do you grapple with that history?
It started in South Carolina. A lot of the Little League programs in South Carolina would not allow black players to play in their state championship. At the end of the 1955 season, however, one league put together an All-Star team of black players from North Charleston. As as far as I know, they hadn't played together all year, they just formed the team. And [Little League] told the state director that he had to put that team in their state tournament. So if they won, they would qualify to go to the regionals.
In any event, back in those days, every element of society was segregated. Even the courthouses had white and black bathrooms. And, of course, we don't know the facts but rumor is the governor of South Carolina went down to meet with the state director from Little League and told him it would be an explosive situation if he did it. I think the state director was originally going to allow the team to play but the leagues protested and left Little League. They got together and formed a program called Little Boys Baseball. At that time, it was only three or four states. By 1956, it had grown to eight states and Little Boys Baseball played their first national tournament in 1956. My memory is a little vague here but around 1957 or 1958, Little League sued Little Boys Baseball because they didn't want them to use the 'Little' name. And so they had to change their name from Little Boys Baseball to Dixie Youth Baseball.
The initial priority of the organization you run was to exclude black children. What is the priority today?
It's a program run by volunteers. We're trying to provide a good solid program and give our players a great tournament experience. We make the kids for special. A lot of programs come in, throw their bats in the dugout and play ball. There's no ceremony or very little ceremony. We have a huge opening ceremony at our World Series.
We try to emphasize the players and try to corral the coaches and keep them in check. We're very player oriented. That's why we give out the scholarships. We've given out over $3 million since we started the scholarship program, we're very proud of it. We're looking out for the kids even after they leave our 12 and under league.
Is there a tight competition between Dixie and Little League? Are they always trying to steal towns away from you, is that how it works?
Well, our stiffest competitor is probably Babe Ruth. We don't get that much competition from Pony or from Little League. In fact, I think we take more leagues from Little League then they get from us. But Babe Ruth seems to be pretty effective at recruiting some of our leagues into their program. We try to offset [the losses] with [the teams] we get from Little League and stay pretty stable.
How does Dixie differ from Little League or Babe Ruth?
Babe Ruth, Little League, Pony, those organizations have large paid staffs. None of our officials are paid or ever have been. We're an all-volunteer force. We have a 46-member national board, with each state getting four members, and then there's the president and Commissioner. Then we have 11 state directors and probably 100 district directors. More importantly, though, we raise and spend money on scholarships instead of salaries. I think we gave 85, $2,000 scholarships out this year to high school seniors for their freshman year of college. We had 400 applications and were able to award 85 scholarships.
So I played in the Dixie League in the 1980s in Georgia and never gave much thought to the Little League World Series. It's a much bigger deal now, though. Do you think kids in Dixie today are disappointed that they may not get the opportunity to play in Williamsport?
Not really. We have a lot of leagues that are just happy to go to the state tournament and end their play there. Most of these teams are realistic, they know they're not good enough. Of course, we've had some teams like Goodlettsville, TN, that played with us for 20 years and never won one of our world series. They moved on to Little League in 2012 and the first year they were out of Dixie Youth, they won the Little League National Championship. We felt pretty good about that. They never could win our world series but wins the US title the first year they're in Little League. Similarly, the team from Lufkin, TX, won the Little League national championship last year, and they never won a Dixie Youth world series.
If we actually had a playoff between Little League and Dixie Youth, I think 50 percent of the time we'd win it. They're not going to do that because that would damage their image. We feel like we're competitive with Little League, we're just much smaller. Because most of our teams are located in the South, we get to play extended seasons compared to a lot of Little League teams up north. Our leagues start anywhere between January and April, so I think our skills are a little more honed then some of the northern players. They've got very short playing seasons up there.
Has there ever been a discussion about a tournament between the two leagues?
We've had tournaments between Babe Ruth, Pony, AABC, Cal Ripken, those programs. But Little League is a primadonna. They're not going to go there.
Are Dixie Youth Leagues located primarily in smaller towns? Does the league target smaller towns?
Yes, over half of our leagues are in smaller towns but we do have leagues in larger cities, as well. We have programs in Tampa, Charlotte, Columbia, Atlanta, Nashville, and Dallas. The south is generally a rural area, so you're correct, most of our programs are in rural areas.
Are Dixie leagues in towns that may not otherwise have youth baseball, that Little League or one of the other programs doesn't hit?
No, Little League hammers on us every day trying to get all of our leagues. Little League has a lot of rural leagues, too.
How about on the field, how do the rules differ from other leagues?
They're very similar. We all have pitch counts. We're all use the same bat standards and the same ball standards. The only difference really, Little League requires leagues to pay to enter their tournaments. We don't require leagues to pay to enter tournaments. There are subtle differences like that but nothing big.
Does Dixie Youth consider itself a 'southern' baseball league? Is there an element of Southern pride? I mean, if someone asked why does the South have its own baseball league, what do you say?
Not necessarily. We've been trying to recruit other states. We tried to get Kentucky and Illinois, but they can't get enough teams together to qualify. We almost got Oklahoma, as well, but they may be a year or two away. We're constantly trying to recruit other states, but since we're all unpaid volunteers with a few seasonal part-time employees, it's hard. It takes a volunteer in a particular state to go out and organize it. Until we get a volunteer to do that, we can't add states. Unlike Little League, we don't have someone who can work on that type of function year around.
But if Montana or California or Kansas wanted to join, they'd be welcome?
We'll take all 50 states. We won't do international, but we'll take all 50 states. We would include Puerto Rico but we probably not Guam. Guam actually asked to join one year, but then decided it was a long way to go play a preliminary tournament. Someone wanted to organize Hawaii one year, as well. In the end, both thought about the logistics of sending their championship team all the way over and decided against.
What are your fondest memories of the league, either on or off the field? Any fun stories?
Of course, we've had some professional players play in Dixie Youth League. Quite a few actually. But one of the most memorable was in 1975 when Michael Jordan played in the World Series. He was 12-years-old and played on the team from Cape Fear, North Carolina. He played shortstop and pitched. That year, they happened to play Texas twice. In one of the games, he hit a three-run home run and they lost 4 to 3. In the other game, he pitched a three-hitter and lost 1 to 0. And we think he turned to basketball as a result of the disappointment. So we like to take credit for him focusing on basketball. Bo Jackson also played with us in Alabama and has spoken at some of our World Series opening ceremonies.
What about other professional players who may still be active in MLB, anybody stand out?
There are, but you know, I don't track them. We use to have some directors who would track them pretty frequently, but they have since retired from the board. A lot of the newer guys work and have real jobs and they don't spend as much time with that trivia as some of our older directors did.
This interview has been edited for brevity and clarity.
Interested in Little League? Check out Fatherly's complete guide to all things Little League and youth baseball related. We've got great coaching tips, funny stories about life in the dugout, and features about the past and future of one of America's great athletic institutions.
This article was originally published on