Disney's Star Wars Land Is Making Big One Big Change For Reopening
Shorter lines come at a cost.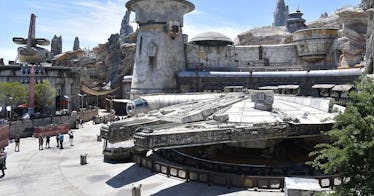 Getty
As of April 30, Disneyland is re-open for business. But with a lot of caveats that are affecting some key attractions, notably Star Wars: Rise of the Resistance. The popular ride is a full-on experience that runs 18 minutes, with guests joining the resistance, getting captured by the First Order, and ultimately escaping thanks to the good guys and gals of the rebellion. But, there's one new change that will make this ride totally different than the first time around.
Here's why: California's current health protocols demand that no indoor ride last more than 15 minutes. And so, Rise of the Resistance – the park's newest attraction, which debuted just two months before the pandemic emerged as a Death Star — required 3 minutes of trims. Fans who've experienced the ride countless times will surely take to social media in the next few hours and days to report on what's been cut to meet the 15-minute time limit, but according to the Los Angeles Times, here's what's getting jettisoned to a galaxy far, far away:"Dwelling points" — Areas where guests stroll or wait within the attraction. According to the Times, citing Disneyland representatives, "That could include the segments when visitors are waiting to be interrogated by the First Order's leader Kylo Ren or when they are allowed to linger before a unit of stormtroopers in a Star Destroyer's hangar bays." Likewise, Daisy Ridley's speech as a holographic Rey may be trimmed.Further, Disneyland has expanded its virtual queuing system for Rise of the Resistance, the idea being to lessen crowding at the park. The Times reports that visitors can "join the queue through the Disneyland app twice daily — at 7 a.m. and at noon — instead of once. In the morning session, visitors can join the queue without having to be in the park. To join the queue at noon, parkgoers must be inside either Disneyland or Disney California Adventure Park."The goal is ultimately to shorten the wait, but not the ride itself. Shorter lines are always good, especially as we all start to emerge into a (hopefully) post-COVID galaxy.