The First 'Star Wars' Theme Park Photos Are Incredible
The designers are promising a completely immersive experience.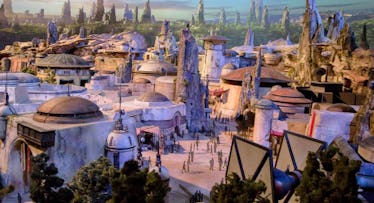 Disney has given fans a sneak peek at its upcoming Star Wars theme parks and, based on the photos, it looks like the opening day rush is going to be as epic as the battle for Hoth. The preview was released during the D23 Expo, a Disney fan convention, at which the House of Mouse unveiled a scale model of the theme park to give fans a taste of what they can expect when they open. Disney then posted a video that included images of a 50-foot 3D model of the theme parks, providing a glimpse into the future of the installation at the core of the company's aggressive theme park expansion strategy.
The photos show that the park designers are dedicated to their promise of building a new type of park that features "total immersion" into the Star Wars universe. To make every inch of the park feel like a galaxy far, far away, they have seamlessly blended together the different planets and ecosystems that were made famous in the Star Wars universe. While the parks are set on a new, unnamed planet that is "one of the last stops before Wild Space," it is clear that it has been influenced by some classic Star Wars planets, such as the gorgeous forest planet of Endor and dark, seedy vibe that is reminiscent of the Mos Eisley Cantina.
The parks are still two years away from opening in Anaheim and Orlando and, given the extremely high level of fan anticipation, they are all but guaranteed to host the largest theme park openings of all time. Those events will be a far cry from the enthusiastic, but intimate original opening of Disneyland back in 1955. But the idea, creating a "a source of joy and inspiration to all the world," hasn't really changed. Only the world has.