6 Movies About Killer Sharks Streaming On Disney+
Celebrate Shark Week, family style.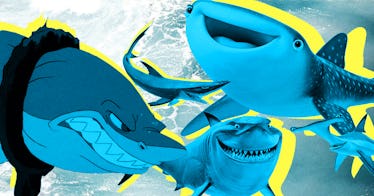 The idea of Shark Week is fairly absurd. It's not a real holiday. It's just something created by the Discovery Channel way back in 1998 to drum-up some random interest in their shark-centric programming. This year, they've even got Mike Tyson threatening the sharks. And while we have nothing wrong with the Discovery Channel's Shark Week, it's not always the most kid-friendly thing in the world. Sharks are, after all, a bit scary for little kids.
So, how do celebrate Shark Week with much after kid-friendly stuff? Here are six movies streaming on Disney+ that just happen to feature killer shark and are less likely to give your little ones shark-infested nightmares.
This 45-minute documentary exists on Disney+ thanks to their partnership with National Geographic. This is a fairly bloodless documentary, and also focuses on some real-life pirate history, too. Good for kids who are okay with understanding that not all pirates were hilarious, and not all sharks are friendly. However, this is low-key enough to the point where you don't have to worry that a Shark is going to rip someone in half.
Another Nat Geo documentary on Disney+, Journey to Shark Eden is not a disco club where Madonna is fencing James Bond, even though it really sounds that way. This doc is more of a travelogue focused on beautiful islands where sharks hang out. Most of them look more bewildered than dangerous.
Okay, so in this movie, sharks are more background characters than anything, but we had to include it because it's a family-friendly movie loosely based on book called Haakon Haakonsen: A Norwegian Robinson. Yeah, we thought it was based on Treasure Island, too, but turns out…nope! Anyway, shark cameos, pirates on the beach, all through the lens of the '90s.
We're pretty big fans of The Little Mermaid at Fatherly, even if several aspects of the movie seem super-dated now. The opening scene where Ariel dodges that Shark is beyond awesome, and as such, deserves your family's attention in any kind of shark-centric rewatch. The various sequels to The Little Mermaid are all absurd and do not contain enough shark chase-sequences.
The reformed vegetarian shark in the Finding Nemo and Finding Dory films are classic kid-friendly sharks for a reason. Kids inherently understand that sharks like to eat all the time, and that's also one of the reasons why sharks can be scary. But, in the universe of Finding Nemo and Finding Dory, you don't need to worry about any of that.
Contrary to popular assumption, the title of this Jules Verne book, and the famous Disney movie adaptation, does not refer to the depth the Nautilus dives to under the ocean. Instead, the 20,000 Leagues refers to the distance traveled by Captain Nemo and the crew of the Nautilus. Delight your children and your spouse with this piece of trivia at the exact moment the giant squid attacks. Everyone will think you're just a peach.
This article was originally published on