Disney+ Pulls 'Peter Pan,' 'Dumbo' From Kids Profiles — But Does That Do Anything?
Disney is once again trying to deal with its problematic history without really doing much.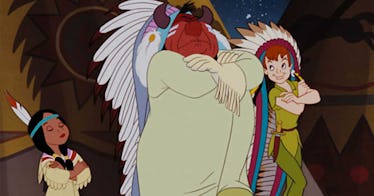 Disney
Since its launch, Disney Plus has struggled to properly address some of the more offensive movies in the Disney canon and its latest move shows that Disney's primary strategy is simply hoping the problem will quietly go away without anyone really noticing.
Without any sort of announcement or acknowledgment, Disney Plus removed several movies that feature racist stereotypes from Kids profiles, including Dumbo, Peter Pan, and The Jungle Book. This, of course, does not mean that any of these movies have actually been removed from the streaming service, only that they cannot be found on profiles that have been set up for children, which is a fairly simple workaround for any tech-savvy kid.
Removing these types of movies from Kids profiles only is essentially an extension of Disney Plus launching "Stories Matter" last fall, where the streaming service attempted to reconcile with these problematic classics by merely placing a content warning in front of them. At the time, Disney said that while it "can't change the past," the company committed itself to "acknowledge it, learn from it and move forward together to create a tomorrow that today can only dream of."
But what has Disney actually done to acknowledge or learn from its past beyond these hollow gestures that seem to be made primarily to change the conversation as quickly as possible? There may not be a simple or easy answer to what Disney should do in regards to the racism shown in a beloved movie like Peter Pan but it's pretty obvious that the answer is not placing a warning sign before the movie or removing it from Kids profiles.
If Disney is serious about addressing its own history of racism, it would need to start with an honest and difficult conversation but for now, it seems like the company will continue to do as little as possible.