Horrifying 'Cars' Theory Suggests One Pixar Character Is a Mass Murder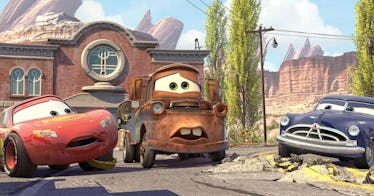 Pixar / Disney
There's a reason that Disney Pixar movies are so popular. They are timeless stories full of interesting characters and emotions. For many of us, the stories bring a flood of memories, either ones we watched as kids or titles we viewed over and over because they were our kids' favorite. Watching these movies as adults or when our kids re-watch when they're older means we catch things we didn't before.
For anyone who watched Cars, the 2006 film featuring anthropomorphic talking vehicles, the story was everything kids love. A cool character, Lightning McQueen, who went through a journey to become a better person. His funny and strange sidekick, Mater, who seemed like he didn't know a lot but turned out to be instrumental in McQueen's journey. And everyone in between – it was a well-rounded world where cars were essentially humans.
The story holds up past a child's imagination. It is a fantastical world, yes, but it's rooted in some reality. Even still, though, there's one theory that shatters the happy world of Cars with a suggestion that one of the main characters is a mass murder. And it's hilarious.
David Chen, podcast host of Culturally Relevant, which features conversations with writers, musicians, journalists, artists, and filmmakers, shared his theory on one character in the Cars world and it checks out.
Taking to Twitter, David writes, "In CARS, Mater's junkyard is full of rusted out car bodies, tires, and other car parts." Adding, "Thus, in the CARS universe, Mater is canonically a serial killer who likes to keep and display 'trophies' of his victims."
If you haven't seen the movie, Mater is a tow truck who is a little bumbling and happens to fall into the best course of action by accident. In human world, he would be the guy who works at the car part junk yard. His home has piles of parts all over the place.
But the big problem is that Mater is a car. There are no humans in this world – just cars. So, he essentially has a home that's surrounded by parts of car "people" just out in the open. Not something the kids would pick up on and given how thorough Pixar typically is with their storytelling and worlds, we have to wonder if this is an easter egg to give parents a giggle. Hmmm…