'The Muppet Show' Is Back, But Disney Still Doesn't Understand the Muppets
Since purchasing the beloved franchise, Disney has struggled to figure out what to do with Kermit and the gang.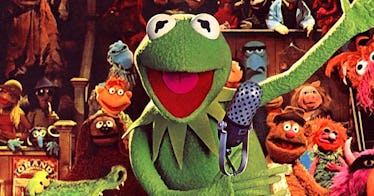 ITC Entertainment / Disney
It's time to play the music. It's time to light the lights. It's time to meet the Muppets on Disney+ tonight. That's right, all 120 episodes of The Muppet Show are finally on the streaming service, allowing parents to introduce their kids to Kermit, Fozzie, and the rest of the beloved felt gang.
But while The Muppet Show remains an undisputed classic, its debut on Disney+ has not received much attention and while that may come as a surprise to longtime fans, the inconspicuous launch demonstrates Disney's ongoing struggle to figure out exactly what it wants to do with the Muppets.
There was a time when the Muppets was one of the defining franchises in kid's entertainment, which is part of what caused Disney to purchase the intellectual property in 2004 after licensing the Muppets for most of the 90s.
But since the purchase, Disney has done little with Muppets. The high point of the partnership was 2011's The Muppets, a film that doubled as a reboot of the forgotten franchise and was a hit with both critics and fans. The success of the movie felt like a potential turning point for the Muppets but in the decade since it looks more like an anomaly.
The follow-up film, Muppets Most Wanted, received middling reviews and made less than half of its predecessor's earnings at the global box office. That underwhelming performance shifted the Muppets away from the big screen and back to the small screen but the franchise hasn't had much more success on television. The "grown-up" mockumentary show was a total misfire, getting canceled after a single season, while Muppets Now, which debuted on Disney+ last year, has failed to make much of a cultural impact despite receiving mostly positive reviews.
So where do the Muppets go from here? It's not clear but it seems like the only way Disney can revive the Muppets is by figuring out what made the franchise so beloved in the first place. Otherwise, the Muppets could tragically become a treasured relic of the past, with no real place in the future of Disney entertainment.
All five seasons of the Muppet Show are available to stream now on Disney+.