Disney+ Gave The Muppets a Hardcore Warning For Parents — Here's Specifically Why
Are the muppets offensive?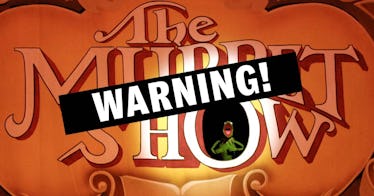 GETTY
Like many pieces of "classic" kids entertainment, The Muppets Show has been given a warning on Disney+. For many parents, the knee-jerk reaction here is probably incredulity. Sure, Swiss Family Robinson and Peter Pan certainly need warnings. But the beloved Muppets? Is this a step too far? Or exactly the right choice? As the eminently quotable Beaker might say: "Meep," a statement that can be read multiple ways.
Here's what Disney+ said, and what it actually means for parents.
First up, here's what the Disney+ warning ahead of The Muppets Show actually says.
"This program includes negative depictions and/or mistreatment of people or cultures," the Disney+ disclaimer reads. "These stereotypes were wrong then and are wrong now. Rather than remove this content, we want to acknowledge its harmful impact, learn from it, and spark conversation to create a more inclusive future together. Disney is committed to creating stories with inspirational and aspirational themes that reflect the rich diversity of the human experience around the globe. To learn more about how stories have impacted society visit: www.Disney.com/StoriesMatter."
So, which episodes are preceded by the 12-second warning? Well, the one hosted by Joan Baez, for example, as well as those featuring Steve Martin, James Coburn, Johnny Cash, Cleo Laine, Joel Grey, Spike Milligan, Alan Arkin, Peter Sellers, Debbie Harry, Wally Boag, Marty Feldman, James Coco, and such renowned anarchists as Beverly Sills, Jim Nabors, Crystal Gayle, and Kenny Rogers. The warnings – according to Internet sleuths citing likely reasons for each instance — are sad, yet understandable. Cases in point: Baez speaks with an Indian accent at one point, while the Rogers episode includes Arab Muppets drilling for oil in his dressing room. Cash performs several times in front of a Confederate flag. Gayle utters the word "Mammy," a reference to blackface, while "Zip-A-Dee-Doo-Dah" – from the notorious Song of the South" — is performed during Arkin's episode. The whole Feldman episode pivots on "Arabian Nights," while the Sills show opens with a Chinese gorilla that's supposed to dance ballet (and actually mutters in something resembling Chinese and says "Moo goo gai pan.") And so on. Some of it is relatively innocuous and some of it is unquestionably unacceptable. No one could figure why the Debbie Harry segment bears a content advisory. But problematic elements are there: Blondie bandmate Chris Stein smokes a cigarette, though that's far from a "negative depiction and/or mistreatment of people or cultures." Also, one particular song choice, "Call Me" – which is about prostitution – surely set off the alarms at Disney+.So, being honest, we're torn. Some of this feels like a borderline overreaction, but that said, the warnings are necessary. What was OK in the past wasn't actually OK, and that even applies to The Muppet Show. Parents can heed or ignore the notifications and make choices accordingly. Parent-children conversations might be had, and there's genuine value in that. Plus, at the end of the day, the episodes are still there – and the offending bits remain.
As Kermit always croaks, "It's time to get things started."