Did Evan Peters Know About 'WandaVision' During 'X-Men: Dark Phoenix'?
It REALLY looks like he knew he was coming back.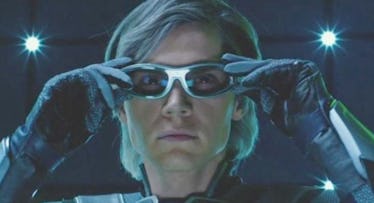 Credit: Marvel
Quicksilver may have seen into the future. A recently resurfaced clip featuring Evan Peters doing interviews for X-Men: Dark Phoenix in 2019, really makes it seem like he knew that his version of Quicksilver may have been crossing over into the world of the Avengers. WandaVision episode 5 spoilers ahead!
Brief history lesson: The "final" X-Men movie released by Fox was Dark Phoenix, which, more or less, concluded the stories of the "younger" X-Men cast who first appeared in X-Men: First Class in 2011. However, Evan Peters didn't join the X-Men as Peter Maximoff until 2014's Days of Future Past. He also appeared in 2016's X-Men: Apocalypse, and briefly appears in Dark Phoenix, too. His role in the final (and critically savaged) X-Mean movie may have been tiny, but he still did a decent amount of press for the film. In one hilarious clip that is making the rounds, Peters and his co-stars, Tye Sheridan (Cyclops) and Alexandra Shipp (Storm) are asked about the future of the X-Men franchise. Sheridan and Shipp both indicate that they hope everything keeps going, while Evan Peters is strangely silent. It's pretty funny.
Granted, this video does zoom-in on Peters to really empathize his reaction (or non-reaction) to this question, but still. Considering how long it would have taken to make WandaVision it's not impossible that by the time Dark Phoenix was out in theaters that Evan Peters had already been contacted about reprising his role. As of Episode 5 of WandaVision, Peters resurfaced as Wanda's long-lost brother, previously played by Aaron-Taylor Johnson in Avengers: Age of Ultron. Darcy (Kat Dennings) noted that Wanda had "recast" her brother Pietro, but here in our universe, we know it's a bit of bizarre corporate synergy. Evans is the "other" Quicksilver!
WandaVision's head writer, Jac Schaeffer recently told Marvel.com: "It was complicated to make happen. Evan was always up for it — like, always, always, always. He is a comic book fan and a Marvel fan. He is always up for the absolute weirdest option." In a certain way, this kind of makes it sounds like the MCU people had been in contact with Evan Peters for a while before things could get finalized.
This means, if he did know about it during this interview, you've really got to admire the man's poker face. None of us noticed Quicksilver squirming until two years later. Nice one. T
Here's when every WandaVision episode drops on Disney+.