Kids In Denmark are Watching a New Kids' Show Called "Mr. Penis Man"
This guy is tripping all over himself.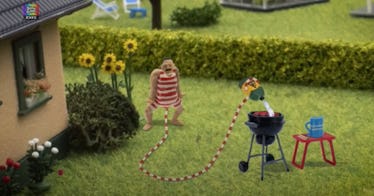 DR
The next time you find yourself wincing at Daniel Tiger's mood-swings, the Paw Patrol pups mounting an insipid rescue, or Doc McStuffins performing a lot of unnecessary surgery, consider the following. Kids in Denmark are watching a new show called Mr. Dillermand, which is about a Mr. Bill-esque figure with a really long penis. According to The Daily Beast, this show literally translates to "Mr. Penis Man," and yes, this dude's candy-cane-striped member gets him into all sorts of hilarious capers.
"We think it's important to be able to tell stories about bodies," the public broadcaster DR said on Facebook, according to The Daily Beast.
The super-long schlong possessed by Mr. Penis Man allows him to sometimes light fires, but also, apparently, get hooked to balloons. How this teaches kids about anatomy is unclear, but at least one Danish kids' expert said: "We [Danish culture] have a tradition to push the limits and use humor and we think it's totally normal."
Obviously, not everyone in Denmark is excited about this, noting that in the era of #MeToo, a cartoon character who trips over a fanciful, super-long penis, is kind of a hard sell.
Just in case you're wondering, this does appear to be real, and aspects of the actual show can be viewed on YouTube, right here. Should you let your kids watch it? We're not going to tell you what you can and can't watch with your kids, but we will say, we think this guy needs to keep it in his pants.
This article was originally published on