Dave Grohl Rocks Out With His 8-Year-Old Daughter on Drums
She's a drummer. Of course she's a drummer.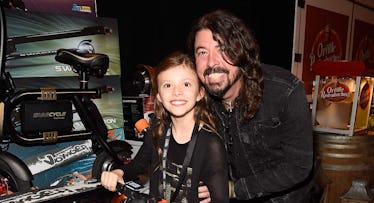 As the former drummer for Nirvana and current frontman for the Foo Fighters, Dave Grohl has been one of the world's biggest rock stars for nearly three decades. And it appears his daughter Harper has inherited his proclivity for hitting the skins hard. During a Foo Fighters show on Father's Day in Iceland, Grohl and his bandmates invited Harper, who had expressed interest in learning drums a few weeks before, on stage to play Queen's 'We Will Rock You' in front of 20,000 Icelanders. For those keeping track, that's roughly six percent of Iceland's total population.
Despite being only eight years old, Harper looked like a natural onstage and drummed along perfectly with the band to Queen's classic anthem. She was so good, in fact, that Queen tweeted their approval along with a video of her debut stage performance. After the performance, Grohl congratulated Harper on her drumming and had her come up to the mic and say hello the fans.
Harper is one of Grohl's three daughters, falling right in between 11-year-old Violet Maye and three-year Ophelia. Neither of the other sisters has performed onstage with their dad, but we can all hope that one day they form a Super Sibling group that blows Haim out of the water. Even if that dream doesn't work out, maybe Harper can team up with Korn's bass player's hardcore son to create a band made up of the children of 90s rock gods.
This article was originally published on