Danny Trejo Explains Why Caregivers Are the Ultimate Warriors
And discusses how he stays connected with his kids.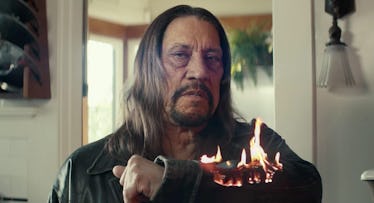 Danny Trejo has made a career out of playing the toughest, most macho dudes imaginable: vigilantes, ex-cons, machete-wielding vigilante ex-cons. And gravelly voiced actor has traveled a hard road to become the face of the hard edged. Trejo spent 11 years in and out of prison, including several years in San Quentin where he went on to become the prison's top boxer. Eventually, Trejo entered the 12-step rehab program that changed his life forever. Now, he's using his talent to bring awareness to an issue that is near to his heart: the importance of caregiver assistance. In an ad with the AARP, Trejo appeals to men to step up as caregivers, celebrating that line of work as "tougher than tough."
Fatherly spoke to Trejo about his own experience taking care of his mom, why there is nothing more manly than taking care of those in need, and how becoming a father has redefined his understanding of what it means to be a man.
What got you interested in bringing awareness to male caregivers?
Well, I started taking care of my mom as she got older, and I realized that without me and my friends, my mom would have had nobody. And there are so many people out there who have nobody to give them the support they need. When my buddy Joey got cancer, I had an extra room, so I had him move in. I have two assistants, and we were all able to take care of him. I just realized how many people there are who need assistance. Not care, but assistance. Helping them with whatever they need. And it's such a blessing. Getting to look at yourself and say, "I helped somebody. I did a little bit of God's work."
What would your advice be for someone stepping into the role of a caregiver?
If you want to be a caregiver, have someone who can be your support as well. It's not a one-person job. You need to have backup. I am so thankful for the people that I had to support me while I was caring for others.
In the "Tougher Than Tough" ad, you draw similarities between a caregiver and a warrior. What was the thought process there?
To me, a caregiver is a real warrior. Stepping up when you are needed, that's a warrior. That's a man. You may not get a medal for it, but you are one mad mother
There is a surprising level of the diversity for male caregivers when it comes to age and race, do you think there is a universal appeal to doing this service for others?
Absolutely, anyone can be a caregiver. You just have to be in the right mindset. "I want to help you." That's it. "I want to do God's work. I want to help my fellow man." That's what we are supposed to do. The reality is that is how we're supposed to live, helping each other out in whatever way we can.
Society has us trained to believe the goal in life is to be busy, but the reality is a busy man has time to do everything.
How can a dad prepare himself for taking on the role of caretaker?
It's not preparing, it's something we are fundamentally prepared to do. If your kid is sick, you are going to do everything you can. If I need to learn how to take care of them, I will do it. Parents have the natural ability to provide care.
How has being a dad informed your experience of being a caregiver?
Our society has taught us that moms are supposed to do this type of stuff. But dads have a responsibility to take part in everything their kids do. I'm a hands-on dad. My kids are older now, but they can come to me no matter what.
What did you do to establish such a close relationship?
Being there. Being there all the time. No matter what. Anyone can have kids, but to be a dad, you have to support your kids every step of the way. That's where it's at.
This interview was edited and condensed.
This article was originally published on