The Danish Health Authority's Short Film Focuses on Dads and Fitness
A video from the Danish Health Authority seeks to push dads further for their kids.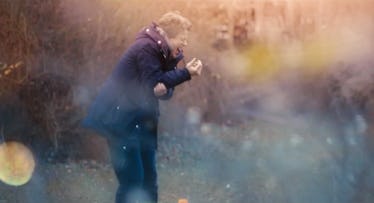 The Danish Health Authority has released a short film, Sundhedsstyrelsen: Mindre kan gøre det that depicts an average Danish dad working to get back into shape. The artsy film begins with the man doing some Rocky-style jogging in the snow weightlifting and he is clearly struggling. Then, the one minute short slowly makes clear that he's rehabbing not only his body but, specifically, his elbow. Why? He wants to gain back full rotation of his throwing arm because, as it reveals in the end when his rehab has been successful, he's able to lob a cricket pitch at his daughter's game.
On first glance, the short a nice depiction of a father's dedication to better himself for his kids. But the ball toss for his daughter's game speaks to the short's larger point: helping girls stay active. "Unfortunately, a new study shows that only 10 percent of Danish 11-year old girls meet the recommendations issued by the Danish Health Authority: Children need to be physical active at least 60 minutes a day," the Health Authority said. "At the same time, the study shows that a parent's effort has the greatest impact on their child's activity level."
This is the first video of its kind from the DHA, but it does align with their "Get Moving" campagin, which encourages children to be active at least an hour each day. And as our heroic Danish dad demonstrated, a parent's quietest struggles can be major achievements for the health of their children.