'Daniel Tiger's Neighborhood' Will Revisit the Famous Mister Rogers Crayon Factory
The joy of childhood rushes back!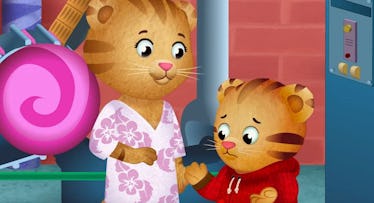 Credit: PBS
One of the best TV shows for a young kid is no doubt Daniel Tiger's Neighborhood. The lessons are real, the songs actually work in real life, and there's a nostalgic feel to what we watched growing up with Mister Rogers and the lessons he gave us. The cartoon, featuring a tiger named Daniel (his dad was a puppet on the original show), is giving us another fun look back at one of the most classic episodes of the original show, and we've got a first look.
Daniel Tiger's Neighborhood is coming out with some new episodes to start our new year off on the best foot. One caught our eye because it's a nod to the classic episode we still recall watching as a kid when Mister Rogers took us on a little field trip to a crayon factory. In the episode, which originally aired back in 1981, Mister Rogers visited a crayon factory, and for many of us, this was the coolest episode ever. Seeing how to make one of our most-loved possessions and being able to see that behind-the-scenes look is something people our age still talk about now.
And now — in a new episode airing on Wednesday, January 8 on PBS Kids — our kids get to experience it, too, with their favorite cast of characters including Daniel the Tiger, O the Owl, and Jodi. In the episode, Daniel returns to the Crayon Factory and learns a valuable lesson on sharing and keeping calm, recounting the advice, "When you feel so mad that you want to roar, take a deep breath and count to four."
RELATED: Revisiting Mister Rogers' Factory Tours Shows the World for What It Is
This episode and other new ones are set to air on PBS Kids on January 8. But we have a sneak peek of the Crayon Factory episode right now. Watch it below!
This article was originally published on