'Daniel Tiger' COVID-19 Special Features Social Distancing and Zero Masks
The Producer of 'Daniel Tiger's Neighborhood' explains the changes in the land of make-believe.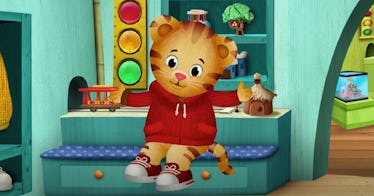 PBS Kids
In the newest episodes of Daniel Tiger's Neighborhood, COVID-19 has come to the land of make-believe. The coronavirus isn't named outright in the new Daniel Tiger special "Won't You Sing Along With Me," but all the various characters are signing to each other via the cartoon-version of a Zoom call. The most popular and influential show for toddlers and preschoolers is here to provide a little bit of comfort to very young ones who might be confused as to what is going on in the world right now.
Created in conjunction with Fred Rogers Productions, Daniel Tiger is generally a show that takes a beat when it comes to big feelings. Supervising producer Chris Loggins tells Fatherly that once it became clear that the pandemic was going to be around for an "unforeseeable amount of time," they felt they had to do something to help kids who were dealing with massive amounts of disappointment over the way life has changed. In the new special, a carnival is canceled because of a health concern, meaning Daniel, Jodie Platypus, O the Owl, and all the other characters can't actually see each other in person for a little while.
"We hope it will be helpful for kids to see Daniel going through some things they are going through," Loggins explains. "The carnival gets canceled. We know that real communities are dealing with all of this. So we wanted to focus on the questions that kids actually have, like 'Why can't I see my friends?' Or 'Why can't I do the thing I normally wanted to do.' We hoped this would help a little bit."
This results in a lot of social distancing in the land of make-believe, but not everything in Daniel Tiger's Neighborhood parallels the real world. At no point do any of these characters mask-up. There are no face coverings or discussions about masks at any point in the special. But Loggins says this isn't because the Tiger family or anyone else is anti-mask. Far from it.
"We thought about Daniel and other characters wearing the face coverings in this episode, but obviously we decided not to do it," Loggins explains. "This show is for children 2-4, and it's important for that audience to see faces, and to have that expression on the face and have the viewer be able to identify or connect with emotions, so we didn't want to cover the face for that reason."
Loggins also points out that although parents of toddlers may be experiencing Daniel Tiger for the very first time, that the show has to be created in such a way that it's still watchable years from now. After all, Daniel Tiger first began in 2012, which means, if you have a toddler in 2020, they weren't even born at that time. For kids, Daniel Tiger is always new. "We were concerned that, a little bit down the line, having masks, could potentially date the show to this moment. Yes, we are addressing this moment specifically, but we still wanted to maybe be able to use the special in the future."
Will that answer satisfy everyone? Perhaps not. Whether or not Daniel Tiger's COVID-19 special is relevant in five years is something most parents are probably unconcerned with. Personally, if my daughter is still obsessed with Daniel Tiger when she's 8-years-old, I'll be worried. This isn't a diss against the show, it's just that for parents, a series like this has utility, whereas, for children, it is perpetually, a magical kingdom that makes them feel better about all sorts of things. Could Daniel have made kids feel better about putting on a mask? Maybe. For now, this one is about social distancing. Every parent will have to decide if they're okay with that. For me, my daughter is good about wearing her mask, so I don't need Daniel Tiger to model that behavior. The emotions about not being able to go do her favorite things are much harder to deal with, however. Daniel Tiger has always been focused more on what's going on inside kids' heads rather than what's happening on the outside of their bodies. That could be the show's limitation, but that's also its goal. And, who knows, if the pandemic lasts well into the middle of 2021 or loner, all sorts of things could keep changing, including the Tiger family.
"We did make a conscious choice to make sure we were modeling social distancing in this episode," Loggins says. "The show takes place primarily in the home, with Daniel and his family, so there is social distancing happening. Which is why did the sing-a-long theme; the characters are mostly in their homes with their immediate family unit."
For parents of kids who love Daniel Tiger, the new COVID-19 special "Won't You Sing Along With Me," won't give your 2-year-old hard science about the pandemic, but it might make them feel better. And maybe, for a very little kid, that's enough.
Daniel Tiger season 5 is airing on PBS in August 2020. Here's how to watch the COVID-19 special "Won't You Sing Along With Me?"
This article was originally published on