In Praise of Daniel Craig Bombing On 'SNL'
Being 'SNL' material isn't always a requirement to be cool.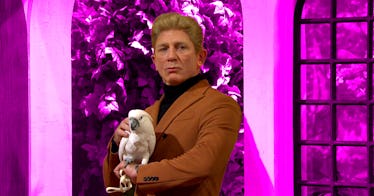 Daniel Craig is a funny dude. He's funny in his James Bond films ("skewered") and he's funny in Knives Out ("a donut within a donut"). But, he was crushingly unfunny when he hosted Saturday Night Live this past weekend. For those who love Daniel Craig, this was a bummer. We're not getting No Time To Die until November now, and because Craig's turn on SNL was so weak, it might seem like the coolest guy in the world is letting us down.
But he's didn't let us down. It's actually okay for Daniel Craig not to be funny in the SNL context. In fact, it's actually kind of a relief.
Like many men, I spend a decent amount of time thinking about how my self-image compares to James Bond. And delusional or not, that often translates to "real world" scenarios. I have a salmon-colored button-up beach shirt that I am convinced makes me look great, only because it resembles one that Sean Connery wore in Thunderball. I'm fairly certain when Paul McCartney's "Live And Let Die" comes on the radio, I instantly become a better driver. When Daniel Craig went to the gym after breaking his leg, I reactivated my Planet Fitness membership. You get it. Chances are, you're secretly like me.
Which brings me to Daniel Craig hosting the most recent Saturday Night Live. Other than a pretty okay sketch(watch below) in which James Bond let-loose at the craps table, Mr. Craig was dealt a smattering of mostly unfunny sketches which all had the feeling of having been written about 10-minutes before the show aired. I mean, there's no way SNL could have known No Time To Die was going to get bumped to November, and assuming they did write new material (my theory) to accommodate that, these last-minute changes showed. I mean, regardless of who you voted for, Elizabeth Warren was much funnier than Daniel Craig on this SNL. In the new sketches, Craig occupied a bunch of unflattering male stereotypes: angry dad, creepy horny dad obsessed with trivia, pushover dad, clueless actor, and soap opera character with bad hair.
To be clear, unflattering stereotypes is usually a great formula for male-centered comedy. (See: the John Mulaney sketch about being made into a meme on the previous SNL.) But, for some reason, with Daniel Craig, all of this kind of stuff fell short. And I think I know why.
As a society, we've decided Daniel Craig can be funny in movies, like say, Logan Lucky. But, in goofier contexts, we kind of just want him to be Daniel Craig; the guy who kicked-ass in Layer Cake, and has been — for many of us — our James Bond since we were in our twenties. Seriously, I'll turn 39 this year, and I was freaking 24-years-old when Daniel Craig debuted as Bond in Casino Royale. The difference between being 24 and 39 is staggering, even if you are not a parent.
But, throughout it all, I'd argue that Daniel Craig has served as a psychological aesthetic baseline for many, many men. And though he's gotten some great one-liners as 007, his defining impact on James Bond is that he's a little bit more stoic and serious than say, Pierce Brosnan. Men can affect stoic and serious. They cannot suddenly have hair like Brosnan's and move their eyebrows like Roger Moore. Daniel Craig's hairline combined with his giant ears made him relatable to a lot of men, even if we are kidding ourselves about our gym routines. And part of why we like him, it that, I suspect, many of us believe we're funnier than him. We can, in essence, be Daniel Craig+ in our minds.
Look, Craig insisted on hiring Phoebe-Waller Bridge, an extremely talented comedian, to help punch-up the script for No Time To Die. This is a guy who knows that he's not known for his humor. And that's okay. He didn't write the sketches for SNL, but he also did a fairly short opening monologue, one that was mostly dominated by a James Bond sketch, and yes, a shout-out to Phoebe-Waller Bridge. The rest of the sketches were pretty meh. It looked like Craig and the cast (particularly Kate Mckinnon) were having a good time, but seriously, what was up with that over-night salad sketch? Or the one where Craig just wants to make-out with Heidi Gardner because of …movie quotes? The overall message was almost an apology for being on SNL at all. It's like Daniel Craig was saying to everyone that he knows he's not spontaneously funny and that he's willing to let other people do that. It's not his thing. Cool?
In terms of desirable traits, everyone knows that being "funny" is supposedly very attractive. And if we concede that Daniel Craig is only funny in specific contexts (not SNL!) then that would imply he's only attractive in specific contexts, too. But, that's patently untrue. Daniel Craig's sexual energy doesn't come from humor, it comes from a sense of rugged stoicism combined with a strange everyman down-to-Earth-ness. If the plot of a James Bond movie were to involve Bond going undercover as a comedian or comic actor, he would fail miserably. And, true to his most famous character, so did Daniel Craig. This is actually the reason why we love him.
Most men are not as funny as they think they are. But that doesn't mean they can't still be James Bond in their minds. By being pretty unfunny in public, Daniel Craig continues to give us the fantasy of Bond without the pressure to be perfect. And the best part is, he accomplished this, seemingly, by being himself.
This article was originally published on