Where Have All the Fathers Gone in Children's Books?
Bookstores are full of kid lit about nurturing fathers right now. After Father's Day, those books will disappear.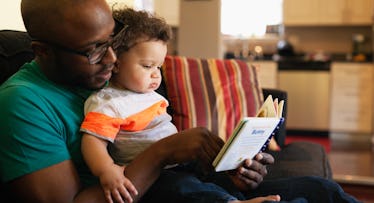 From about mid-May until June 18th, the children's book sections of American bookstore are all in on coparenting fathers. "Stories for Dad & Me" reads the display at my local bookstore. Handsomely presented are books like Dada by Jimmy Fallon, I Love You, Daddy by Alison Edgson, Because I'm Your Dad by Ahmet Zappa (whose own father was pretty awesome) and, of course, Dr. Suess's Hop on Pop.
Given that cheerleading, a one-off bookstore shopper or a habitual Amazon user might be forgiven for not realizing that American kid literature is in the grip of a fatherhood crisis. Though I make that claim with my tongue in my cheek, I'm also semi-serious. The cynical surge of father-centric children's books in the run-up to Father's Day–presumably the one time of year mothers are obliged to invest in dad lit–only highlights the problem. This seasonal exception should be the norm, or at least somewhat closer to it. But it isn't. There are several reasons why and not a one of them explains away the issue. Each only serves to demonstrate the severity of the problem.
Like a growing number of fathers, I read to my children nightly. We devour picture books like boll weevils do cotton. We make quick work of the classics, from Sendak to Silverstein, and bravely try to keep up with the deluge of modern must-reads like Dragons Love Tacos (and Dragons Love Tacos Too) and Du Iz Tak? We meet fathers along the way — the bumbling bunny-losing fool in Knuffle Bunny, the overall-wearing d-bag Papa Bear from the abomination that is The Berenstain Bears — but what we don't meet are the sorts of nurturing fathers I seek to emulate.
The first time it occurred to me we might be in the midst of a dad drought was a few years ago, while reading Hug, Jez Alboroughs' 2000 story of a lost chimpanzee, Bobo. In the book, Bobo tools around the jungle, watching others animals embrace. He is lost, sad and wants a hug. Eventually he finds his hugger. It's his mother; he's a mother hugger. There are three words in this book: Hug, Mommy and Bobo. After a few nights reading the book to my kids, I took a Sharpie, crossed out the word Mommy and wrote Daddy instead. Dads give hugs too.
Suddenly, everywhere I looked I saw mothers. The shelves were lousy with them: the crazily over-protective bunny in Margaret Wise Brown's The Runaway Bunny (sure she's insane, but more importantly she's a mommy; Max's supper-maker and sender-to-bedder in Where The Wild Things Are; Sal's blueberry picking companion in Blueberries for Sal. And it's not just the classics either.
From Little Brown's new I Promise, in which a mother bear reassures her baby bear she will love him to, No, David, David Shannon's story of a boy wrestling with anger only to be comforted by his mommy, mothers are role from which all a book's life springs. As a children's book author myself, I noticed it first hand too. My first book, Can I Eat That?, grew out of my own nightly fights with my older son about what to eat for dinner. Clearly these were arguments between me and my kid. But, when I got the book in hand, the blurb on the front flap read, "Mommy, where do pickles come from?' Fear this question no more."
It's not that there aren't men or boys in children's books. Quite the opposite. A 2011 study entitled Gender in Twentieth-Century Children's Books: Patterns of Disparity in Titles and Central Characters found that men and boys are disproportionately represented, both in the human and animal realm, in children's literature. "This absence reflects a 'symbolic annihilation' because it denies existence to women and girls by ignoring or under-representing them in cultural products," wrote the study's author, Professor Janice McCabe, "As such, children's books reinforce, legitimate, and reproduce a patriarchal gender system."
But, by and large, it has been a patriarchal system minus the patriarchs.
Now, fathers are increasingly present in kid's books. This is a reflection of broader societal changes in caregiving roles. But these characters still seem almost universally limited in their ability to care versus entertain. In new books, dads are for adventure and for hanging out with. In a new book, which I love, called Round, a dad takes his daughter looking for round objects. In My Dad Used to Be So Cool, a son imagines his tattooed dad's glorious youth while on fun outings with him.
That's cool, but when a child wants to be comforted in a children's book or when a child needs to be disciplined it is always to his or her mother to which he or she turns. Mothers rule, daddy's cool. But love and discipline are precisely the sort of meat-and-potatoes parenting tasks fathers must be shown to do more of for these are the sort of meat-and-potatoes parenting tasks fathers are doing more of.
There are a couple of reasons fathers in these un-glorious roles are so poorly represented in children's books. That mothers are still statistically, the primary caregivers has something — a lot! — to do with it. But I would argue the business case has more. As Wu Tang sang, cash rules everything around me. First of all, mothers still make up the majority of children's book purchasers. To the extent that they buy books with fathers in them, they are likely buying books not just with fathers but about fathers and often for the fathers. That's one reason so many books about fathers come out in the summer season, just in time for Father's Day. And that's why, for at least this week and next, the children's book section is awash in books featuring fathers.
Secondly, besides being as white as blank space, the publishing industry itself is overwhelmingly female. At the editorial level, it is 84% female. Though focusing more on cultural rather than gender diversity, Jason Lowe wrote in a 2015 assessment of diversity within the publishing industry, that "what is at work is the tendency—conscious or unconscious—for executives, editors, marketers, salespeople, and reviewers to work with, develop, and recommend books by and about people who are like them." So it goes with parenting roles, too. Even Professor McCabe agrees, "It is a ripe area for sociological research," she told me.
On the one hand, perhaps we should just embrace the stereotype of fun dad. It is certainly flattering, I guess, and a life could be built on traipsing through the woods and taking your kid to rock shows. But it's just not true, not anymore. We can be boring dads too, and loving dads, and stern dads, and just around dads. It would be nice to be able to read to our children not fairy tales but real ones with happy endings and a kiss goodnight too.