How 'In Living Color' Stars Foxx and Grier Are Turning Dad Shame Into Comedy Gold
"When did I last embarrass my daughter? Everything is an embarrassment"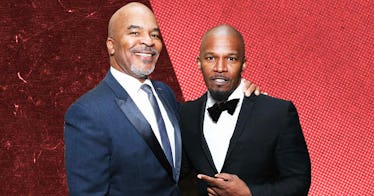 Getty
In Living Color alums Jamie Foxx and David Alan Grier are reunited for a most unlikely project that casts them in the most unlikely roles. Even though Foxx and Grier are only 11 years apart (Grier is 64, Foxx is 53) they are nonetheless, playing father and son. The project is Dad Stop Embarrassing Me, a new, eight-episode Netflix sitcom that dropped on April 14.
Grier is Pops Dixon, dad to Foxx's character, Brian, and grandpa to Brian's headstrong teenaged daughter, Sasha (Kyla-Drew). The trouble (fun?) starts when Sasha moves in with Dad and Pops after her mom dies. Several of the plot threads in Dad Stop Embarrassing Me come straight from the diaries of Corinne Foxx, Jamie's daughter and one of the show's executive producers. Fatherly was on the line recently when Jamie Foxx (cool and stylish as ever) and Grier (sporting a long gray beard and…. overalls) sat for a moderated conversation and answered questions from journalists.
Here's Grier and Foxx on being fathers, being funny, and why it's impossible not to embarrass your kids.
How did Dad Stop Embarrassing Me come together?
David Alan Grier: Jamie and I would always see each other around Oscar time, this award show, that award show, at a concert or something, and we can give each other a pound. "You've got my number, man. Hit me up. Let's work." I never thought it would take 30 years. I didn't know it was going to be this kind of show. So, last year when I was in New York, I get a message. My agent calls and says, "Jamie's lawyer wants to know if you'd be open to talking to him." And I'm like, "Oh, this is it. It's going to be the Tarantino thing. It's going to be some serious Oscar stuff coming." I said, "Yeah!" They said, "OK, we're going to set the call." And…Grier: So, I got on the phone with Jamie and I said (to myself), "OK, I'm going to be real cool." I said, "So, what you want to do, man?" He said, "I'm gonna do this sitcom." I was like, "Wow." So then that's when we talked about the show and that's really when I heard about it, a year ago. But then I thought it was going to squashed, because of COVID and everything. Then it came back, and here we are.Jamie?Jamie Foxx: I'll give you my take. There are certain guys you can't be. You can be as funny as you want. You can do whatever you want. Certain guys you can't be. When I went to In Living Color, the first time I got on there, I was the eighth funniest dude on the thing. I was the eighth funniest. Everybody was punking me. Right? And then David Alan Grier had this thing where it was not only gut-bucket funny, Detroit, but he also went to Yale. So, even the intelligence of his jokes was unmatched. So, I learned. I learned. I watched him as a technician at the time. And I didn't understand that doing comedy, there are techniques to it. There's a way how to get them jokes off. I would watch David and Damon…Damon Wayans…Foxx: They would do something on Friday and then that show would air on Sunday, and then the world had changed on Monday, because of them. So, it was great to be in that number. And now you flash forward. And like I said, we both been doing our thing. We would always run into each other. That always stuck in my mind, "When it happens, it's going to be dope." And here it is, Dad Stop Embarrassing Me. I said, "The only way this show works is if David Alan Grier says yes. The show will be good. But if he says, yes, it's going to be great." And the proof is in the pudding. When he stepped on the set, man, it all came rushing back.Grier: I was talking to Jamie, and there were two things I really wanted to know. "Are you going to be in the show?" It could be, "Jamie Foxx presents… And a bunch of folks in a room," with Jamie dropping by every five episodes. Well, I could tell, when Jamie started talking, "Oh, you're going to be in this." And here's what clinched it. Jamie, when you said, "I need you in the show." I can't remember the last time a creator told me they "need" me there. When he said he needed me and that we could take this to the next level, I was in from right in that moment.The characters you play are well-meaning dads. What do feel fathers can learn from watching this show?Foxx: It started out as a seed of me and my daughter's experiences. I was always embarrassing my daughter. My daughter never got in trouble. So, I never had to say stuff like, "I know you ain't coming here late." "I know that ain't alcohol on your breath." "Who's this boy?" I never had to do any of that. But there were always these moments where she felt under siege. I was that Disneyland dad, taking her to Disneyland and trying to patch everything up. I was doing all this stuff that I thought would make up for time lost or whatever that was. And so, when we brought this idea of Netflix, it started by being live in front of a studio audience, with The Jeffersons. That studio audience made me go, "Ooh, we got the bug. This works." So, then when we got the show together on Netflix, which makes sense because we can go a little further, you always got to be careful when you become the sitcom dad. And I think the only way to do what we wanted to do, what Dave and I wanted to do, was on Netflix, where we have a little bit more latitude.You even talk to the camera…Foxx: So then, once we started doing it, there are those moments of teaching moments. I do this thing where I talk to dads about if they've been estranged from the one that they were married to, but they have a kid, and I always tell them about going forward. Like, don't, don't give up, because we automatically think moms are by nature in that position to raise kids. I'm like, "No, they need us as well. So, keep going forward." So, our whole thing was showing the dad who now has to do it on his own, but having David Alan Grier as a dad, having my sister (Porscha Coleman as Chelsea Dixon), and how it actually is in my house, it's basically him running things by committee. So, there's going to be moments where it's teachable, but there are going to be funny moments, too.David, you're a dad, too. How often do you embarrass your daughter? Grier: I love being his father. I have a 13-year-old right now. When people hear the name of the show, some of them think, "Oh, David's (Jamie's) father and I'm embarrassing him. No, it's Jamie embarrassing his younger daughter. I love being a dad. It brings up a lot of memories. My daughter started a new school, like millions of kids during the pandemic. Somebody asked me the last time I embarrassed her. It's every time I walk in on a Zoom class or anything. Everything is an embarrassment. The hug in the morning. The beard. She hates my beard. The overalls. It's all an embarrassment, man.Dad Stop Embarrassing Me is streaming now on Netflix.
This article was originally published on