Dad Pulls A 'Billy Madison' To Cheer Daughter Up
If peeing your pants is cool, consider this dad Miles Davis.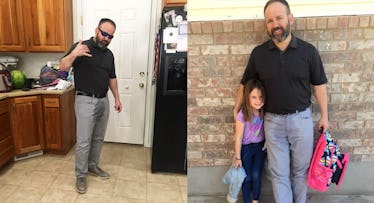 Twitter / Lucinda Sowards
Ben Sowards' 6-year-old daughter Valerie was crying at school on Friday because she wet her pants. To ease his daughter's embarrassment, Sowards took a page from Billy Madison's book and splashed some water on his crotch in hopes of helping her feel better. If peeing your pants is cool, consider this guy Miles Davis.
The internet caught wind of the epic dad win when Valerie's 17-year-old sister Lucinda tweeted about the incident. The post, which now has more than 61,000 retweets and 251,000 likes, was met with much praise. One reply even called him "TOO PURE FOR THIS WORLD." Indeed peeing your pants is by far Adam Sandler's best parenting tip next to squeezing a kid's face and yelling "Stay here as long as you can."
Sowards' stunt worked and Valerie was all smiles after she saw him."She was laughing about it," Lucinda shared with Buzzfeed. "It was so funny." This wasn't the first time Sowards pulled a move like this. Lucinda said that after she fell ice skating and got a shiner, her dad painted his eye black to make her feel better. Solidarity.
This article was originally published on