Praise Larry David! 'Curb Your Enthusiasm' Returns In October 2021
Pretty, pretty...pretty good!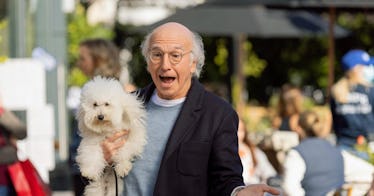 Credit: HBO
Which music is more iconic? "Also Sprach Zarathustra" by composer Richard Stauss and made famous by 2001: A Space Oddessy, or "Frolic," Luciano Michelini's piece which serves as the theme song for Curb Your Enthusiasm? In a hilarious, new heaven-sent trailer for Larry David's wonderful series, the answer appears to be, why not both?
Set to the famous and ominous 2001 music, the trailer begins with a shot that makes us think we're looking at the Earth, and the words "The world has changed" appear, just as they do in so many pretentious commercials these days. But then, it's not the Earth, it's Larry David's bald head. And then "Frolic" kicks in. YES. Larry David is back. Previously, Season 11 of the series had been announced for October 2021, but no release date had been set. Until now.
Starting on October 23, 2021, HBO will begin airing new episodes of Curb Your Enthusiasm, which, for most of us is this news is: pretty…pretty..pretty good!
Last season Larry dealt with the dry scones, the scourge of MAGA hats, and the perils of opening a coffee shop only out of spite. We can't wait to see what happens this year. In a sea of comedy that is just okay, the acerbic brilliance of Curb Your Enthusiasm is more essential than ever. While planning your Netflix Seinfeld binge will help you revisit old Larry David gags, the fact that October will also give us all new jokes from Larry is one of the greatest gifts on this or any other planet. The picky master of minutiae returns. All praise Larry David!
Curb Your Enthusiasm Season 11 hits HBO and HBO Max on October 23.
This article was originally published on