Retro Cool 'Cuphead' Game Is Now a Slick Netflix Cartoon
Here's a sneak-peek at the next great show show for kids 7 and up.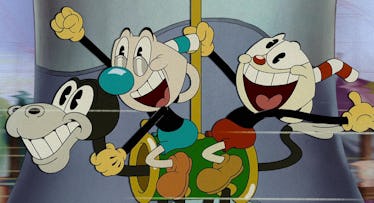 The Cuphead Show! (L to R) Frank Todaro as Mugman and Tru Valentino as Cuphead in The Cuphead Show! Cr. COURTESY OF NETFLIX © 2022
Let's all raise a glass to Cuphead. The popular run and gun action game has been adapted into a new Netflix animated series, The Cuphead Show! The streamer will drop all 12 episodes, running 12 minutes each, on February 18, and Fatherly is here with an exclusive clip.
If the imagery in the trailer rings a bell, that's because Cuphead, the game, and now The Cuphead Show! are inspired by 1930s-style animation, particularly the old Mickey Mouse cartoons from Walt Disney and shorts produced by Fleischer Studios. The Cuphead Show! is very much a kids' program, but it skews a bit older, arriving on your screen with a TV-Y7 rating. Much like the Studio MDHR game, which was published in 2017, the show follows a couple of cups, brothers Cuphead and Mugman, who are always chasing fun and adventure in their wacky homeworld, Inkwell Isles, even as they race the clock to repay a debt to the Devil himself. The only thing that can come between the tight-knit brothers? Cookies. Viewers can expect plenty of rat-a-tat dialogue, endless outlandish visual jokes, a few devilish scares, and some cartoon violence.
Cuphead is voiced by Tru Valentino, an actor whose live-action and animated credits include Spidey and His Amazing Friends (Black Panther) and The Rookie. The show also features the voice talents of Frank Todaro (Mugman), Luke Millington-Drake (The Devil), Joe Hanna (Elder Kettle), Grey Griffin (Ms. Chalice), and the ubiquitous Wayne Brady (King Dice).
We love the look of this show and feel like this is a solid off-beat alternative to the usual look-and-feel of shows aimed at kids this age. We're happy to present this exclusive clip and think this show is off to a great start.
The Cuphead Show! will begin streaming on Netflix on Feb. 18.
This article was originally published on