'Croods 2' Huge Box Office Means Family Flicks Could Save Movie Theaters
Don't count movie theaters out yet.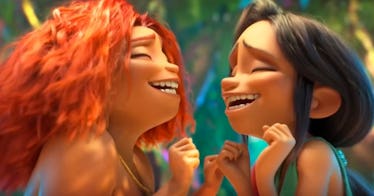 Universal Pictures
The Croods: A New Age did the impossible this past weekend. The animated family film grossed $14.2 million dollars over the 5-day Thanksgiving period and just shy of $10 million for the 3-day weekend. Since the advent of the coronavirus, only Tenet earned anywhere near as much at theaters in a single weekend, while the likes of The New Mutants, Unhinged, The War with Grandpa, The Honest Thief, Let Him Go, and Freaky all raked in much, much less.
And while it's true that $14.2 million is utter scraps compared to what Thanksgiving weekend champs traditionally make – Frozen 2 amassed $100 million-plus over last year's four-day weekend, for example — Thanksgiving weekend 2020 was far from traditional. Remember, the pandemic was as bad or worse than ever throughout much of the United States, with local governments and the CDC pretty much begging people to hunker down at home. Note, too, that hundreds of recently reopened theaters had shut down again as a result of the uptick in COVID-19 cases, and the ones that did remain open, did so with limited capacity. Further, The Croods 2 – which features a voice cast that includes returnees Ryan Reynolds, Emma Stone, Nicolas Cage, Catherine Keener, Cloris Leachman, and Clark Duke, as well as newbies Leslie Mann, Peter Dinklage, and Kelly Marie Tran — made most of its money during matinee showings, which cost less for adults, and via discounted prices for children's tickets.
"Within the context of what is a very limited theatrical marketplace, the box-office revenue generated by The Croods: A New Age over Thanksgiving was even better than expected," Paul Dergarabedian, Senior Media Analyst at Comscore, told Fatherly. "This performance showed that an innovative release strategy that provided movie theaters with a much-needed, brand-new piece of content coupled with a quick road to availability on home video, paid dividends for the studio, theaters, and consumers alike. Universal clearly looked at the very unusual marketplace dynamics and turned this into a win-win by showing that despite the pandemic, families still had a desire to go out to the movie theater over what is traditionally a big holiday for the industry."
All of that suggests that there's hope for the future of moviegoing, the future of theaters, both short-term and in the long run. People – and particularly families – want to see films in theaters, on a big screen, and they will turn out en masse for the right movie. Family films sure seem to be the way to go at the moment. And with vaccines on the way, the prospects look even brighter. Meanwhile, for anyone still too concerned to hit the multiplex or their local theater right now, The Croods: A New Age will land on VOD later this month, just in time for holiday viewing at home.
This article was originally published on