'Creed II' is Not So Secretly a Sequel to 'Rocky IV'
More than three decades later, Drago vs. Creed: Round 2 is finally here.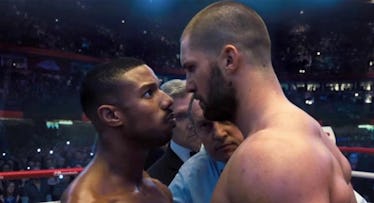 Creed II, the highly-anticipated sequel, comes to theaters this week. Of course, Creed itself is a sequel of sorts to the original Rocky franchise, as Adonis Creed is trained by Rocky and is the son of Apollo Creed, Rocky's rival turned best friend. But how much does Creed II really relate to the Rocky franchise?
After all, the original Creed primarily related to the Rocky franchise in terms of characters much more than plot. Rocky is, of course, in every movie in the franchise but he has gone from fighter to mentor in this new series. Adonis Creed was not in the original series at all but his father, Apollo, played a massive role in the series as he transitioned from opponent to trusted ally. But unlike the original, Creed II will be borrowing heavily from the original franchise in terms of both character and plots. Specifically, Creed II is a not-so-secret sequel to Rocky IV, as the upcoming film will finally give fans the Creed-Drago rematch we've all been clamoring for.
For those not familiar with Rocky IV, the movie opens with Apollo Creed being killed in an exhibition fight against Ivan Drago, a Soviet boxer who uses steroid-fueled brute force to crush his capitalist-loving foes. Rather than traditional mourning, Rocky opts to deal with his friend's death by challenging Drago to a fight in the Soviet Union. And while Rocky can never dream of matching Drago's strength, his pushes his physical and mental toughness to new heights via the franchise's second-best training montage set in the remote snowy mountains. After taking an absolute beating in the first few rounds, Rocky manages to shock the world and win the fight while simultaneously winning the Cold War for America (in case it isn't clear, this is the most patriotic movie ever made).
And now, over three decades later, we are finally getting the sequel to Rocky IV with Creed II. Yes, technically, Rocky V is the sequel to Rocky IV and Creed II is a sequel to Creed but, in reality, these two movies share a deep connection: the continuation of the Drago-Creed feud. In the upcoming film, Drago returns from his self-imposed exile on the hunt for revenge against Rocky in the form of his son Viktor, who has joined the family business of breaking people with his iron fists. Inevitably, Adonis and Viktor end up facing off in the ring.
Adonis facing off against Viktor is unbelievably high stakes for everyone involved, especially Adonis himself. Not only is he having to protect his mentor's legacy by taking down a new generation of Drago, he is also motivated by the fact that Viktor is the son of the guy who took no remorse in killing his dad. While Adonis may share his name with his father, he shares his motivation with Rocky in Rocky IV. Despite being overmatched physically, both Rocky and Adonis step into the ring against their opponent in order to avenge Apollo's death. Will Adonis succeed like Rocky or could he be the second Creed to fall at the hands of a Drago? Either way, we can't wait to see.
Creed II is out in theaters now.