Count Olaf's Last Words Are From a Famous Poem About Parents Fucking Up
Further proving the 'Lemony Snicket' books are subversively awesome, the dying words of Neil Patrick Harris's Olaf reference a Philip Larkin masterpiece.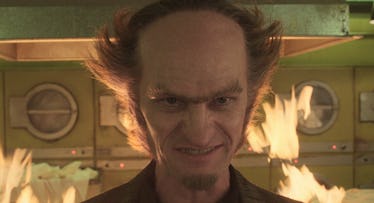 A SERIES OF UNFORTUNATE EVENTS
Part of the brilliance of Lemony Snicket's A Series of Unfortunate Events is its utter refusal to talk down to children or shield them from the ills of the world. The books and wonderful Netflix series are also stuffed with references to adult literature ranging from Richard Wright's Native Son to J.D. Sangiler's short fiction. Heck, the heroes of the story — the resourceful Baudelaire orphans, get their name from the poet 19th-century poet, Charles Baudelaire. But, it's not a poet from the 19th century who makes an impact in the final episode of A Series of Unfortunate Events, instead, an incredibly poignant and brilliant poem from 20th-century poet Philip Larkin is sampled by the villain. And it's an excellent poem about parents fucking up.
Mild spoilers for the end of A Series of Unfortunate Events on Netflix follow.
In his death scene in A Series of Unfortunate Events, Count Olaf (Neil Patrick Harris) actually quotes two poems. The first is a love poem by Francis William Bourdillon called "The Night Has a Thousand Eyes." This is not a poem he quotes in the original book. But, in both the Netflix show and in the book The End, Olaf's dying words are:
"Man hands on misery to man.
It deepens like a coastal shelf. Get out as early as you can, And don't have any kids yourself."
This is the last stanza of Philip Larkin's poem "This Be the Verse," which begins with the lines:
"They fuck you up, your mum and dad.
They may not mean to, but they do."
You can (and should) read the rest of the poem over at Poetry Foundation, but the cooler, more interesting thing about this poem essentially wrapping up the entire series is that its message is initially about forgiving your parents for fucking up. There's cynicism at the end of the poem, too, about not having kids. In real life, the poet Larkin never married, and never had children either. But, of course, the real Lemony Snicket, Daniel Handler, is a father.
It could be argued that the entire story of A Series of Unfortunate Events is a parable for what happens to children when their parents are either irresponsible or absent. "This Be the Verse" encapsulates that theme in a twisted way, which is why it's so cool that it's Olaf's dying words. As parents, we all know we fuck up. But, we also hope that even if we do, we'd all have children as wonderful as the Baudelaire orphans. At the same time, we should all remember that you can have a kid like Count Olaf, too. Which doesn't mean that a child doesn't deserve love! If anything, as the series demonstrates, Olaf didn't get enough love from his parents, or, later, stand-in parental figures. Which is why when he dies, he thinks the idea of having children is wrong.
This fact more than anything might be why Olaf is a villain. "This Be the Verse" is a great poem, but it ends on a note of selfishness. But the beautiful part of the poem — and the part with the swearing — is where parents should focus. We do fuck up. But, if we're smart, we don't have to hand that misery down to our children.
A Series of Unfortunate Events is streaming now on Netflix. Visit Poetry Foundation for more about Philip Larkin.