Corporations and Parents Bully Boys Into Choosing Violent Toys
Corporations may not intend to shrink the parameters of play, but that's precisely what they end up doing.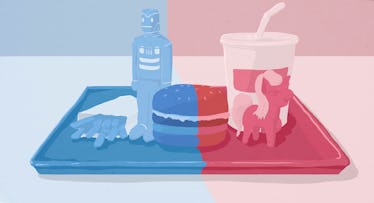 John Finley for Fatherly
My boys were in the backseat making the barest of efforts to contain the very specific sort of excitement that only the McDonald's drive-thru can inspire. Yes, they were jonesing for their Happy Meals, but the anticipation — those shortened breaths all but fogging the windows — was all about the the plastic-wrapped mystery toy. I shouted our order through the speaker and the speaker crackled back a simple inquiry: "Are those Happy Meals for a girl or a boy?"
I hesitated for a second before answering.
Over the last couple of years, I've grown increasingly curious about the tendency of local McDonald's employees, which is to say greater Cleveland area McDonald's employees, to ask me the gender of my children. It strikes me as curiously out of step with the national discourse on gender. It's not that my boys don't want the "boy" toys that they are given. They very much do. It's that they would take any sort of toy — we're not talking about a discerning crowd — and yet inevitably wind up with some sort of thermonuclear robot or heavily muscled action figure.
One day, when my children weren't with me, I answered the predictable question with a lie. Upon unpacking their Happy Meals at home, they discovered pink Shopkins stoves, complete with smiling frying pans. This confused them slightly, but they got over it at speed and played happily. I remained confused. The stove seemed so anachronistic. What, I wondered, is going on at McDonald's? And, more broadly, what is going on with toys for boys?
I watched my boys assaulting each other with tiny cookware and wondered whether I had been up to that point, been complicit in limiting their conception of play. I wondered if I had, with an assist from corporate MBAs in an archipelago of conference rooms, narrowed my boys' minds. That's not the sort of thing one wants to wonder, so I decided to look into it. What I discovered was not a hidden agenda, but genuine good intentions and a genuine failure to look after the best interest of boys.
There is no agenda for boys. There's no fever, there's no motion behind it.
Getting someone on the line at McDonald's corporate headquarters proved difficult so, after spending the better part of an afternoon on hold, I called the customer support line in hopes of speaking to an actual person. Happily, my call was answered by a very professional young man who listened carefully as I asked about McDonald's policies on gendered toys. He asked me to wait a moment as he retrieved a script. Then he read to me.
"None of our toys are meant to be gender restricted," he recited. "All of our toys are meant to be enjoyed by all of our younger customers, both boys and girls."
Then he offered an apology. "When we offer happy meal toys with two different themes our employees should ask our customers which of the two toys offered they would like and not whether they would like a girl or a boy toy," he said. "I'm sorry if you experienced different, sir."
Not only was this an excellent customer service interaction, it answered one of my questions. Corporate was not training employees to ask the gender of my sons. The employees were doing so out of habit, confusion, or laziness. There was a disconnect.
I wondered where else employees on the ground were facilitating gendered toy decisions without corporate guidance. So, I set off on a tour of my local fast-food joints and big box stores, speaking with front-line employees in toy aisles and behind counters. What I found was a bunch of people doing their best in the context of contradictory guidance or no guidance at all. I found people trying to serve customers ("Always right!") in manners at odds with corporate instructions and others feeling their way through difficult conversations with strangers.
In the dreary light of my local Subway, a young sandwich artist held up two toys after I ordered a kids meal so I could better make my decision. One was a pink pair of Barbie sunglasses. The other was a Hot Wheels toy. I asked her if she and her fellow employees ever received any specific training about how to offer toys.
"You mean gender-wise?" she asked.
I nodded.
"Honestly we didn't receive any training," she explains. "I just hold the toys up and ask the child which one they want. I try to be as good about that as I can. I don't want to make any assumptions. I can't speak for my fellow employees, but that's what I do."
Later, I stop a man with "Section Manager" on his badge in a Walmart toy aisle. I ask him where he'd send someone looking for a toy for a boy. "I'd direct them right here to this aisle. This is boy-toy heaven right here," he says, gesturing to the racks bristling with an arsenal of garish Nerf weapons.
Had he ever been trained in how to direct people in the toy aisle based on a child's gender?, I asked. He thinks for a moment and shakes his head. He doesn't remember that. He just remembers what happened a thousand times when customers came into his store. "It's more about the parents," he suggests. "The kids lead the way and the parents follow."
Two aisles away, there's a pink canyon of Barbie dolls. I ask if he'd be cool if he found a boy browsing the aisle of Mattel's svelte fashion maven. Would he just shrug it off? "Well, no," he shifts his weight from one foot to the other. "I'm not sure how to answer that."
Toy makers and sellers seem to understand that a gender-normative approach is flawed and problematic and maybe even limiting from a sales perspective.
One strip mall over, I strike up a conversation with a Target sales associate. Even here, at the retailer with arguably the most progressive bathroom and gender policies, she has not had any training on gender. "It really depends on your personal ideas," she says. "There's a difference between older and younger employees. The older employees will be more traditional."
This is all to say that my local toy suggestion systems are highly subject to human error — or prejudice.
None of this is particularly surprising to Richard Gottlieb, a toy industry analyst and the CEO of Global Toy Group. "I'm sure the greeter at Walmart doesn't get the message. Most people at that level don't get the message. They're working from the heart," he explains. "They don't mean badly, they mean well. Their job in life is not to correct a potential societal wrong. They're there to guide most of the people where most of the people want to go."
As Gottlieb points out, there has actually been a massive push in the toy industry to stop gendered toys. But there's also pressure in the other direction. Toy advertising, which drove $21 billion in U.S. sales for the toy industry in 2017, is more gendered now than it was in the 1970s, a time studies have shown was generally bereft of gendered toy ads or catalog pages. The shift occurred in the 1980s when children's television was deregulated, allowing cartoons to operate as marketing platforms for toy lines. Because the programming was gendered (think She-Ra versus He-Man) so too were the toy ads. And when the nineties rolled in, so did a wave of girl empowerment. Messaging shifted. Girls could play with anything. But boys were never given the go-ahead on all the goodies wrapped in pink.
"There is no agenda for boys. There's no fever, there's no motion behind it," Gottlieb says. "I don't see a groundswell for it. Right or wrong, I just don't see it."
Still, toy makers and sellers seem to understand that a gender-normative approach is flawed and problematic and maybe even limiting from a sales perspective. People in the C-suite seem to be making an effort.
In 2015, Target decided to remove "boys" and "girls" signs from the toy aisles. They replaced the gender labels at the end of the aisles with descriptions like "imagination play" or brand names like Barbie or Lego. This allows children and parents to navigate toys based on function and desire. Additionally, the North American International Toy Fair, the toy industry's largest gathering in New York, removed the "Best Girl Toy" and "Best Boy Toy" categories from the Toy of the Year Awards in 2017.
"I think there's definitely an influence from external forces, activists included, to move companies towards more progressive and inclusive engagement around gender equality," says Jess Weiner, a consultant on gender equality for such clients as Mattel and Disney. "And yes, the role of the consumer also is important. When brands feel their core customer is on the same page and sharing these concerns, they will also prioritize. It's a combination of factors that move business on this."
"One of the reasons it's so hard for boys to play with more feminine toys is that the fathers are very reluctant to let their boys play with feminine toys."
But it's not a safe assumption that parents, the actual customers, are on board. A 2012 study from Dr. Carol J. Auster of Franklin and Marshall College, titled The Gender Marketing of Toys: An Analysis of Color and Type of Toy on the Disney Store Website found that while girls are encouraged to enjoy stereotypical boy toys, there is no equal consideration for a boy. Auster notes "this tendency of girls more so than boys to engage in this gender crossing may be due to the fact that boys' parents tend to discourage their sons from engaging in most feminine activities and encourage them to engage in the more narrow range of activities associated with traditional masculinity."
In 2006, Dr. Isabelle D. Cherney, currently Dean of School of Education and Social Policy at Merrimack College, published a study about the gender-linked difference in leisure activities. She reached a similar conclusion, writing, "girls may be less strictly gender-typed than boys are because they encounter less intensive gender role pressure from their parents and peers."
But the term "parents" is a little too broad Dr. Cherney told me after I call her up for additional insight. In fact, the reticence around stereotypically feminine toys rests mainly with fathers. "Studies, over and over, show the mothers are really open. They don't mind if their boys are playing dress-up," she explains. "One of the reasons it's so hard for boys to play with more feminine toys is that the fathers are very reluctant to let their boys play with feminine toys. Some still believe that playing with feminine toys might turn a boy homosexual. There is a stigma. It's very subtle. But kids pick that up."
So, while corporations are taking a gender-agnostic approach in the toy aisle, parents still default to stereotypically masculine toys for boys. And that's what the people on the ground are reacting to. In our separate conversations, both Gottlieb and Cherney illustrate that point to me through the hypothetical scenario of someone buying for a birthday gift for a boy they do not know well. The retail staff isn't likely to lead that shopper to the doll aisle. Why? Because chances are pretty good that the boy's parents would blanch at their kid receiving a Barbie or babydoll.
"You expect certain things of your child because of their gender," Dr. Cherney explains. "Those expectations are really deep-rooted."
Those expectations are constantly reinforced in subtle ways that parents might miss. For instance, when department stores began to differentiate between boy clothing and girl clothing in the 1930s, pink and blue were adopted basically arbitrarily as gendered colors. Those colors are now beacons. Some parents say they ignore them, but that's a tough thing to do. Those sorts of signals constitute a constant undertow.
"I've always maintained that I don't know another industry that works as hard to tell half the population that they can't play with a particular toy," Gottlieb notes. "It makes no economic sense at all."
And that's problematic. Not just because some progressive parents may be annoyed. But also because gendered toys aren't great for kids. "You play very differently depending on the type of toy,", Dr. Cherny explains. "These experiences, in the long run, have all kinds of consequences including the types of jobs you might choose to go into."
"The signs are going to change and the packaging is going to change and human nature is going to change."
Cherney's work has shown that stereotypical girls toys, such as the pink Shopkins stove McDonalds gives to girls in their current Happy Meals, help develop verbal skills and the ability to string together complex processes: ordering pretend food, gathering pretend ingredients, cooking them, serving them, and washing up. Stereotypical boys toys, on the other hand, teach concrete skills that build spatial awareness and eye-hand coordination. These skills are correlated with the ability to build a mental picture of abstract forms that are crucial to skills in the Science Technology Engineering and Math fields.
So a disconnect between a corporate policy and on-the-ground practice results in gendered pressure on the play habits of boys. And it would appear that, barring a seismic social shift, this will continue to be the case for some time. That said, Gottlieb is optimistic change will come.
"The signs are going to change and the packaging is going to change and human nature is going to change," he says. "But what we should be hoping for is allowing children to find a passion in the toy department without any signs or restrictions. That'll make for a better future for all of us."
Does that mean that my boys will prefer pans to warriors or plowshares to guns? It does not. But hopefully, it means that they'll feel like they have a choice — that they won't be manipulated and pressured from the get-go.
A few months after bringing Shopkins home, I'm back in McDonald's drive-thru. I don't get the gender question after I order.
When the Happy Meals are handed over, I find out why: My boys have each received a Valentines theme box. In partnership with American Greetings, McDonald's is offering my boys all the tools they need to create their own V-Day cards. There are crayons, stickers, stencils, and blank cards. It's not gendered. It's just creative.
That evening, after eating, my boys busy themselves making cards. They're at it for hours.