Coronavirus Will Hit Sesame Street and Cookie Monster May Get a Fork
Sesame Street plans to create Covid-19 specific content and maybe get the show's most famous gourmand some utensils.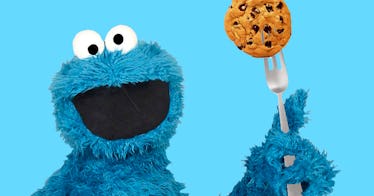 Cookie Monster has a problem. When the furry, blue cookieholic horks down his favorite chocolate chip confections his hands are all over his face and mouth. That's part of the classic Sesame Street muppet's compulsive charm. He is our id. He is relatable. But, in the age of coronavirus, he sets a poor example for the kids. Cookie Monster, beloved and unchanged since 1971, may have to change. That's how the cooooooookie crumbles during a pandemic.
"Our characters are very instrumental in promoting hygiene," explains Dr. Rosemaire Truglio, the affable Senior Vice President of Curriculum & Content for Sesame Workshop. "Maybe we need to have him use utensils now."
The folks behind Sesame Street, which decamped from PBS to HBO in 2016, take pride in being responsive to public health issues. "All of our characters sneeze into their elbow," says Dr. Truglio. That's not a small feat from a puppetry perspective given that none of the characters really have elbows in any orthopedically recognizable way. She confirms that Coronavirus and COVID-19 will be dealt with by the show's characters. The disease will spread from the real world into the world of make-believe. This will happen as soon as the folks behind Sesame Workshop figure out a way to go back to work. Production had wrapped on the show's 50th season, but these are gameday players. The writers and puppeteers believe it is their responsibility to talk to kids in times of crisis.
"We're scrambling," Truglio says. "We're very aware that our charters play a very important role not only in our children's lives but in our adult lives as well."
Strangely, Cookie Monster's eating problem — roughly the same as Ted Striker's "drinking problem" in the classic film Airplane! — is not without some precedent. The monster has faced another serious plague: childhood obesity. In 2008, Cookie abandoned his strict cookie diet to add fruits and veg. It was a seismic shift for the blue monster. As he told Martha Stewart, his new position was that "cookies are sometimes food." He even took the message on the road, with an appearance on The Colbert Report where he described himself as the Robert Downey Jr. of cookies during his out-of-control years of the 1970 and 1980s.
Sesame Street has a reputation for rising to the occasion when the country is confronted by adversity. A few months after September 11, 2001, the show tackled the trauma of disaster after Elmo experiences a smoky fire in Mr. Hooper's store. After Hurricane Katrina, Sesame street aired a four-episode arc that dealt with Sesame Streets recovery in the aftermath of a hurricane.
In the coming weeks, parents can expect new Sesame Street content related to the COVID-19 on the Sesame Street in Communities platform and on social media — Elmos, for instance, is already tweeting words of encouragement. Importantly, the new pandemic-specific content is as much for parents as it is for kids, explains Truglio.
"We want to maintain that children learn best through play and so there's wonderful content there about how to engage in these playful learning experiences," she says. "We're creating content focusing on health and hygiene. That is being created as we speak."
But Truglio notes that it's also important that Sesame Street maintains a certain even keel. Kids thrive on structure and stability. As it is, their lives have come wildly unmoored. Part of the role of a responsible muppet is to model good behavior. Part of the role is to be consistent. So Cookie Monster may stop eating with his hands, but he'll still be Cookie Monster. Like a good friend or neighbor, he changes to keep us safe and stays the same to keep us happy.
C is for Caregiver and that's good enough for all of us.