Diggerland Is A Construction-Themed Amusement Park With Heavy Machinery For Kids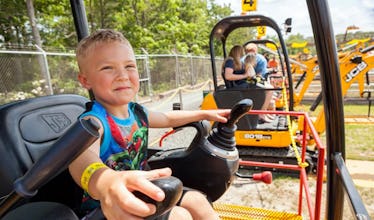 Diggerland USA
Amusement parks are rarely made for parents to do anything outside of waiting in lines and spending $20 on chicken nuggets. But Diggerland USA in West Berlin, New Jersey offers literally groundbreaking fun for the whole family, and that finally includes you. On top of being able to ride and operate mini excavators, dump trucks, asphalt rollers, and skid-steers, you can finally be as cool as all those construction workers your kid admires, plus you still get keep your day job. Can you dig it? You're damn right you can.
According to their website your kid can get in on the action too, because it's unfortunately never just about you. While individual rides have different height restrictions (you can find them here), Diggerland is appropriate for any kid 36-inches or taller. Among many extreme options, you can ride a backhoe with your kid on your lap, or just cruise on a steamroller, all for the online admission price of $24.95 for kids and $29.95 for adults (and super tall kids). If you're planning on excavating regularly, annual memberships are currently on sale for $49.95 ($65.95 normally). It's also located directly behind Sahara Sam's Oasis Indoor and Outdoor Water Park, in case your family is split on the idea of spending a Saturday on a construction site. Now they'll have somewhere else to go when you wont stop digging.
There are similar businesses out there, such as Extreme Sandbox in Minnesota, Texas, and Oklahoma and Dig This in Las Vegas, but they're not for kids. If that seems better, Diggerland XL offers an adults-only version if you can get afford a sitter — plus all the therapy your kid will need once they find out you did something this awesome without them. There's only one Diggerland USA currently in New Jersey about 20 minutes outside of Philadelphia, but they encourage individuals interested in partnering to reach out about opening additional locations. Perhaps it's time to really go pro.
[H/T] Kottke
This article was originally published on