Has Jerry Seinfeld Become a Jerk?
In the latest season of 'Comedians in Cars Getting Coffee', Seinfeld continues his battle against PC comedy.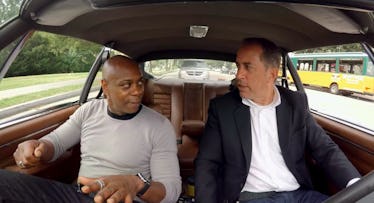 Netflix
The fifth season of Comedians in Cars Getting Coffee premiered on Netflix over the weekend, offering comedy fans the chance to once again watch the iconic Jerry Seinfeld talk life and laughter with the likes of Zach Galifianakis, Ellen Degeneres, and eight other famous comedians. The show works like a hybrid between a talk-show and a podcast, with Seinfeld having a 20-minute conversation with another comedian that allows them to riff and get a bit deeper on certain topics, without getting too deep. It's this simple, engaging formula that allowed the show to gain traction in the first place and five seasons in, it is still a show that comedy fans will likely enjoy.
But while the show remains popular, the most recent season has faced a bit of backlash, with some critics accusing Seinfeld of transforming into an insensitive, out-of-touch jerk who vaguely rails against PC culture while victimizing comedians. The Washington Post said that Seinfeld is "coming into a rightful and more acerbic crustiness at what may very well be the wrong moment for that sort of thing." And they are hardly alone, as several publications have called out Seinfeld for becoming a crusader for offensive comedy and even becoming borderline nihilistic with his disregard for anything "woke" or socially relevant. But is that a fair assessment?
As many have noted, Seinfeld's crusade against political correctness, including his half-hearted defense of Roseanne, can feel a little bizarre because of the fact that he became one of the biggest stand-ups with material that was more observational than offensive. In fact, the only time he's ever really been called out for saying anything remotely offensive was a slightly tasteless but primarily bland joke about a hypothetical gay, French king. Still, a comedian doesn't have to be inherently offensive to rally against political correctness and in Seinfeld's case, he is clearly uncomfortable with the idea of arbitrary restrictions being placed on comedy in the name of so-called "tolerance."
The only problem? Seinfeld's defense of anti-PC culture is pretty fucking weak, as he mostly just reiterates lazy talking points you would expect to see from Fox News or Breitbart. In the opening episode of the newest season of Comedians in Cars Getting Coffee, Seinfeld is discussing PC culture in comedy with Zach Galifianakis, he claims that "The problem with not allowing intolerant talk, is that now you're being intolerant."
It's not an original or even a particularly compelling argument, which especially feels shallow when compared to other comedians, like Dave Chappelle, who offered up an imperfect but thoughtful defense of allowing people the ability to fail and even offend in order to find truth and discover new ideas. In a stark contrast with these moments, Seinfeld's mild approach to this complicated topic feels a bit like the Grumpy Old Man yelling at the clouds. Seinfeld's struggle to tackle freedom of speech and censorship in an engaging way shouldn't come as a surprise to anyone familiar with his comedy, which famously focuses on the absurdity of day-to-day living while avoiding serious topics like politics or race, but it can still be a bit jarring to see a living legend swing and miss.
Fortunately, in the new season of Comedians in Cars Getting Coffee, Seinfeld only waxes philosophical about the necessity of offensive comedy in passing, primarily sticking with the observational humor that made him one of the defining voices in comedy for the last four decades. The most satisfying moments in the show aren't when Seinfeld stands on his soapbox; the show is at its most entertaining when he is discussing the nature of failure with John Mulaney or riffing with Chappelle about the importance of the rectum. Sure he can be a bit of a curmudgeon but Seinfeld remains a devoted student of the art of comedy and he is never better than when he is bouncing jokes off a fellow comedian.
In a time where we (arguably unwisely) demand more and more from celebrities, Seinfeld remains a superstar who is at his best when he is avoiding taking himself or anything else too seriously. And should that really come as a shock to any of us? After all, this is the same man who famously described his massively successful '90s sitcom as "the show about nothing", meaning that there was no greater lesson to be learned. Seinfeld was just about being funny.
And nearly 20 years later, it appears that Seinfeld the man is at his best when he takes a cue from his show, as he continues to be a master of overthinking inconsequential aspects of life for no real reason. None of this is to say that Seinfeld needs to shut up about serious topics, in fact, he deserves some credit for not just checking out and writing off everyone who would dare to disagree with him. However, if Seinfeld wants to avoid becoming an aging jerk whose best days are long behind him, he may want to stop join a battle he seems underqualified to be fighting.
This article was originally published on