Christmas Day Family Movie: 'Wonder Woman 1984' Vs. Pixar's 'Soul'
Two huge theatrical movie releases are streaming at home. But which one is right for your family?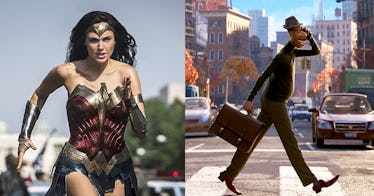 Warner Bros. / Walt Disney Pictures
For countless families, going to the movies on Christmas Day is an indulgent and exciting holiday tradition. This year, of course, going to see a big blockbuster (like Star Wars!) on Christmas Day just isn't an option, so, instead, the Hollywood powers-that-be have shot stuff straight-to-streaming. Amid all the various choices, you're probably already aware that there are really only two new Christmas Day movie streaming options that seem right for families this year. After you're done watching the classics, you're probably going to want to see something new.
And that comes down to Wonder Woman 1984 on HBO Max or Pixar's Soul on Disney+. Obviously, you can watch both movies, but which one is right for the big family holiday movie? Which one of these movies will help you escape the hard year of 2020, and let you pretend, at least for a moment, that things are a little more normal?
Well, frankly, neither of these movies can do that. Even a full-blown instant-classic like a new Toy Story or Finding Nemo or The Fellowship of the Ring or the first Avengers, wouldn't make 2020 go away. And, although both WW84 and Soul are solid flicks, they're not on the level of those movies I just mentioned. Both of these movies are special, yes, but they're not quite instant classics. Would either have been better in the theater? Almost certainly. But, that's not the debate here. These movies exist on streaming. Here are the pros and the cons for choosing Soul or Wonder Woman 1984 as your hypothetical family Christmas movie for 2020.
Soul
Pros:
Soul is a Pixar movie, so because of that, you're dealing with something that is automatically more age-appropriate for younger kids. The movie focuses on a down-on-his-luck music teacher and begins with kids in a classroom being funny. If you have a 4-year-old, or older, Soul is visually pretty safe, even if some of the themes are very dark. Plus, the movie does give kids a primer in why jazz music is amazing, which, who knows, could lead to you being able to listen to some nice jazz in the house for a while. (Pro tip: Some toddlers love Duke Ellington. At least mine does!) It's got the Pixar magic. It looks great and is (basically) uplifting. Also, Tina Fey is reliably hilarious.
Cons:
If the title (or trailers) didn't give it away, the movie Soul is literally about what happens to our souls after death. We're talking nine minutes in before the credits, Joe Gardner (Jamie Foxx) falls down a manhole and dies. Then, it seems like he's about to to to "the great beyond." This is not made vague. Joe yells about "not wanting to die" many, many times. Could be triggering for some kids? Also, the bulk of the movie is pretty much about purgatory, which while given a zany Pixar flavor is…still a movie about purgatory. Yes, there's a Dickensian journey that Joe goes on about the meaning of life and all that, but let's face it, this isn't exactly The Incredibles. In fact, Soul might be a better movie than either of The Incredibles or even, Finding Nemo. But, that doesn't mean it will be a crowd-pleaser for the whole family. If something like Finding Dory is like a Kurt Vonnegut novel, Soul is like Kafka.
Wonder Woman 1984
Pros: Unlike the gritty Batman Vs Superman or Justice League, this new DC movie outing has more in common with its predecessor, 2017's Wonder Woman. And while that film was set during WWI, this movie breezily moves into a kind of cartoon version of the 1980s. After Wonder Woman busts some criminals at what looks like the mall from Stranger Things, the movie slows down and begins to feel more like an actual 1980s superhero movie. It's not as violent and scary as some other superhero movies as of late, and there's a goofiness to aspects of the plot that will feel refreshing.
Plus, Wonder Woman flies, has a great new suit of armor, and saves children from doom in several scenes. Finally, Kristen Wiig as the new villain, "the Cheetah," is a little like when Richard Pryor was in Superman III in 1983. In other words, it works, and it's a little weird at the same time.
Cons: If you've got young kids, this probably won't work. All parents have to be their own best judge of this stuff, but, like most big blockbusters, WW84 still has a lot of violence. Again, there's less than other movies of its ilk, and Diana (Gal Gadot) really goes out of her way not to kill or hurt people, even taking a moment to remind her boyfriend Steve (Chris Pine) why he can't just bust out a sword on some people.
Still, the movie does get pretty hardcore with some global war shit, and the primary villain, Max Lord, is played by Pedro Pascal, which is oddly super disturbing. In The Mandalorian Pascal is a good dad. In WW84, he's a slimy, Donald Trump-esque deadbeat dad who's basically the worst person ever.
Finally, oddly, because WW84 plays out like a kind of old-school '8os movie, it feels like we don't really get to see Wonder Woman being, err wonderful, until like the very end of the movie. For kids, this movie is easily more fun and less scary than the first Wonder Woman, and yet, it feels like it could have been even brighter.
Wonder Woman 1984 is streaming on HBO Max on Christmas Day starting at 12:00 PM EST
Soul is streaming on Disney+ on Christmas Day, probably starting at 3:00 AM EST.