Chris Pine Will Probably Roll the Dice on New 'Dungeons and Dragons' Movie
Stranger things have happened...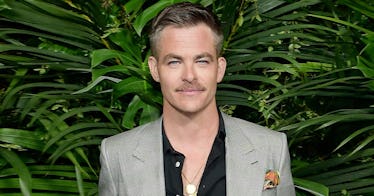 GETTY
Chris Pine may have just beamed up to his next project and, nope, it's not a fourth Star Trek adventure. The actor, who'll next be seen Christmas Day reprising his role as Steve Trevor opposite Gal Gadot in Wonder Woman 1984, is reportedly negotiating with Paramount and eOne to star in Dungeons and Dragons, a new big-screen adaptation of the long-running, long-popular fantasy role-playing game.
According to the industry trade paper Variety, Jonathan Goldstein and John Francis Daley are writing the screenplay and will direct the film. The two previously teamed up for Game Night. Hopefully, this version of Dungeons and Dragons will help erase any memories of the ill-fated 2000 adaptation that starred Justin Whalin, Marlon Wayans, Thora Birch, Jeremy Irons, and Rocky Horror icon, Richard O'Brien. If it all works out, Pine will begin work on Dungeons and Dragons after he wraps production on Don't Worry Darling, director Olivia Wilde's psychological thriller which also stars Florence Pugh and Harry Styles.And for those wondering about Pine and Star Trek, the actor won't rule out playing Captain Kirk again at some point. He's eager to do so, despite the fact that neither the Quentin Tarantino-scripted R-rated version nor director Noah Hawley's proposed enterprise made it out of spacedock. "You know, I haven't (read a script)," Pine told ComicBook.com while promoting Wonder Woman 1984 this week. "I really, in terms of the Star Trek of it all, I wish I knew anything. I'm quite literally one of the last people ever to find out. So, I haven't read that script. I don't know where it is in development. I haven't read the Noah Hawley script. I have no idea what's happening in Star Trek land. But I love the character, I love the universe, I love my friends in it. To have a Quentin take on it would be tremendously interesting and entertaining. Look, whatever happens, if I come back or not, it's a great universe. It deserves to have a future, and I hope that is the case."
Wonder Woman 1984, featuring Chris Pine, will hit HBO Max on Christmas Day.
This article was originally published on