Inside the Super Weird, Hyper Polite World of Family-Friendly Wrestling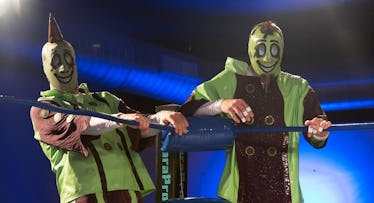 Photo by Avi Steinhardt
On a recent Saturday afternoon at the Chikara Wrestle Factory in Northeast Philadelphia, a wrestler named Baby Ice Cream wore a luchador mask with a scoop for the face and cone for the beard and wept. Baby Ice Cream or El Hijo del Ice Cream, whose real identity is unknown, is one-half of the tag-team duo Los Ice Creams, and one of the family-friendly wrestling company's superstars.
Lucha Libre style wrestlers, or luchadores, are known for their high-flying acrobatic style, masks, and anonymity. But at Chikara, they're also hermit crabs, mustachioed baseballs, and of course, ice cream cones. They perform for an audience of children of all ages, including at least two still bottle feeding.
As Los Ice Creams fling themselves around the ring, battling opponents such as a Fire Ant, Ophidian (a man made of snakes), and two wrestlers in Cosby sweaters, staff members sacrifice their bodies to shield the front row of kids. And then it happened. Baby Ice Cream's opponent, an unmasked wrestler named Travis Huckabee, hit him with his signature finishing move, the Bridging Butterfly Suplex. Baby Ice Cream went down in tears.
"Say you're sorry," the crowd chants in unison. "He has a family!" one boy yells, breaking the crowd into laughter. None of the kids think it's real, but like their parents and other adult fans, they revel in the absurdity of it all.
"He has a family" is not your usual wrestling crowd's chant — taunts run more along the lines of "Holy shit!" or "Cena sucks!" or "You have herpes!" — but it's fitting at Chikara. When professional wrestlers Mike Quackenbush and Reckless Youth (Tom Carter) founded the independent wrestling company in 2002, pro wrestling was still a sordid sport. It was typified by "blading," tragic deaths and wrestlers simulating sex in the ring. Quackenbush and Carter opted to go the other way, creating an aggressively kid-friendly touring organization of performers they called Chikara, after the Japanese word for strength.
Rather than relying on shock value, they created what fans describe as a "human-friendly" live-action PG-rated comic book. Before events, an announcement reminds attendees to refrain from vulgar language so the entire "Chikarmy" can participate. The culture of inclusivity has taken root and today, the company no longer has to enforce the rules. The followers take care of it for them. Explicit chants are met with a stern "That's not PG!" counter-chant.
This moral clarity is a draw for many fans. And there's a purity to how the company presents the "faces," or good guys, and "heels" or bad guys. "There's a sincerity to it," Rob Asheuer, father of 6-year-old Amy who sat in the front row, told me in between matches. Though Rob was a Chikara fan before she was born, Amy attended her first match just over a year ago. Asheuer was nervous that she was too young but, he says proudly, "she was getting in wrestlers faces right away," he says. Now, she's an old pro. Amy squeezed her dad's hand through intense moments and asked him to help her initiate chants like "Hug it out!" in lighter ones.
One of Amy's favorites, Silver Ant, is a good guy and normally a member of The Colony, a stable, or a group of wrestlers, including, with Fire Ant, Green Ant, and Carpenter Ant. Today, Silver wrestled alone against Frightmare, a heel who haunts dreams. When Frightmare ripped one of Silver's antennas off, Amy began to weep. Her father asked one of the staff members to bring her a tissue, they obliged. As Silver Ant was carted off by "medics," the match was declared a draw. This occasioned the evening's most intense interaction. As Frightmare left, Amy screamed "I hate you" into the face of Frightmare. Frightmare looked wounded but did not reply.
"Families feel safe at our events, they know nothing will happen that they will need to cover the little one's eyes about," said Bryce Remsburg, an official at Chikara, who is also a parent. That's why kids like Amy are comfortable enough to cry one moment and get in a grown man's face the next. Dasher Hatfield, the baseball-faced half to the tag team The Throwbacks and a father of two, agrees.
While Hatfield has seen other performers blackballed for letting f-bombs slip in the ring, he prefers to keep it clean. He insists his gimmick would be similarly kid-friendly no matter where he wrestled. Before he created the Dasher character, he was known as Ultimo Breakfast, which was exactly what it sounded like. He wore a mask that was also a toaster, transforming himself into the most important male of the day. He did not cuss.
For Hatfield and the other performers, the kid-friendliness demands a higher quality schtick. In comedic terms, Chikara is the blank space between Bob Newhart and Andrew Dice Clay. "This is Chikara and you're going to have to find a more clever way to make your point than with four-letter words," says Hatfield.
But ultimately, what sets Chikara apart from other kid-friendly competitors isn't the tame language or the funny storylines. "The best thing about wrestling is the kids in the crowd," says Asheuer. Watching Amy for the entire event proved his point. The father-daughter duo were not wrestlers or desserts, but they were not just audience members either. They were the show.
This article was originally published on