Chappelle's Show Is Off Netflix, But Streaming Elsewhere — Here's Why
Dave Chappelle got Netflix to remove his famous sketch show. But you watch it with several other subscriptions. Here's what's going on.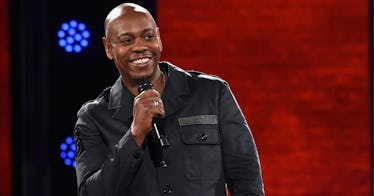 Getty
Dave Chappelle's famous and hilarious sketch comedy show Chappelle's Show, was, very briefly, streaming on Netflix. However, after Chappelle pointed out that he totally wasn't being paid for that fact — at all — it's now no longer streaming on Netflix. Here's what's going on and why there's a controversy.
Chappelle apparently doesn't get paid for streaming residuals from Chappelle's Show.
Because Chappelle's Show is owned by ViacomCBS, Dave Chappelle, apparently, has no legal right to prevent it from being streamed anywhere. That's not super-uncommon in the media industry, and even Chappelle admits — in a recent Instagram post — this is "perfectly legal because I signed the contract" but he also points out "But is that right? I didn't think so either."
Why is Chappelle's Show stills reaming on CBS and HBO Max?
The short answer is because those two streaming services aren't legally required to take it down. Neither was Netflix. The only reason Netflix took down Chappelle's Show was that Dave Chappelle straight-up asked them, too. "They agreed that they would take it off their platform just so I could feel better," Chappelle said. "That's why I f**k with Netflix… Because they paid me my money, they do what they say they were gonna do, and they went above and beyond what you can expect from a businessman: they did something."
Currently, there are several newer Dave Chappelle Netflix specials you can stream, all of which, are things he actually is paid for under those contracts. These specials are also fantastic and tackle some hard issues parents face all the time.
Should you watch Chappelle's Show on CBS or HBO Max?
Apparently, Chappelle has contacted by CBS and HBO Max and made similar requests of those streamers to remove Chappelle's Show. This would mean the only way you'd watch it would be by purchasing it outright either on DVD or as a digital download. (Though it's unclear how much of that money Chappelle sees, either, likely nothing.) For his part, Chappelle thinks: "if you are f**king streaming that show you're fencing stolen goods. They stole that from me. They just took it. And I'm not here trying to tell you guys that I believe Comedy Central gave me a raw deal just because I'm black. I believe they gave me a raw deal because this f**king industry is a monster."
This article was originally published on