'Captain Marvel' Post-Credits Scene Totally Sets-Up 'Avengers: Endgame' (No Spoilers)
It's also not at all what you think it is.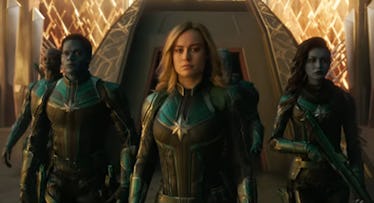 Captain Marvel, starring Brie Larson, Samuel L. Jackson, and Jude Law, comes to theaters this weekend, hoping to add another successful chapter to the ever-growing and beloved Marvel Cinematic Universe. And once you have enjoyed 124 minutes of clever quips, semi-hidden Easter Eggs, and epic fight sequences, you will likely find yourself faced with one question: Is there a scene after the credits? After all, sitting around watching the credits roll can be a bore but it might be worth the wait if the movie ends up giving fans an Easter egg or hints at what the sequel might be about. So does Captain Marvel have a post-credits scene you should stick around for? The answer is yes, and it is one that will (duh) connect to Avengers: Endgame.
For now, let's just say this: Everyone's theories about how Captain Marvel will tie-in with the next few Marvel movies — specifically Avengers: Endgame — aren't quite right. But the mid-credits and post-credits scenes are awesome.
Without giving away any plot details or spoiling anything about the movie, we will say that Captain Marvel has scenes both in the middle of and after the credits. This should come as no surprise for anyone familiar with the MCU, as they are largely considered responsible for popularizing the post-credits trend. So you're probably going to want to stick around the theater to watch the credits in order to not miss out on two extra scenes.
Post-credit scenes have become the norm over the past decade and while Captain Marvel is already getting a ton of love from critics – it currently has a pretty super 85 percent approval rating on Rotten Tomatoes – the newest entry in the Marvel canon, unfortunately, continues this annoying, completely unnecessary trend and doesn't let the movie end when it's supposed to..
Captain Marvel opens in theaters nationwide March 8.
This article was originally published on