Can Parents Play Michael Jackson's "Thriller" On Halloween?
It's still the most popular Halloween song of all time. So, what's the deal, are we cool with this, or not?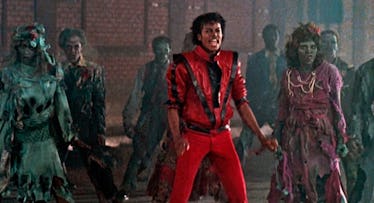 Screenshot from the "Thriller" music video. (Credit: Sony Music, YouTube)
At the start of the super-famous Michael Jackson music video Thriller, there's a disclaimer where Jacko makes it clear that he doesn't' actually believe in the occult. Notably, this disclaimer did not include anything about real-world crimes, just imaginary ones. But these days, whether justifiable or not, when you hear a Michael Jackson song, there's a little bit of a knee-jerk reaction to think about real criminal behavior, not monsters. And by knee-jerk, I'm not talking about that sick, leg-kick dance move he invented. I'm talking about the 2019 cancelation of Michael Jackson. We're seven months out from the bombshell Leaving Neverland documentary, and the wave of zeitgeist nausea it created. But, the culture has a short memory these days. It's Halloween! Can we still play "Thriller" or what? Is Jacko still canceled, even on Halloween?
According to a new study from PlayLikeMum, "Thriller" is still the number one most popular Halloween song, ever. So, can we just play it and not think about Michael Jackson any more? The answer, for parents, is probably a little unclear. If you're a grown-ass adult, and you're going to a grown-up Halloween party, it hardly matters. Like. At. All. Nobody at an all-adult Halloween party should really give a shit about playing "Thriller," because if you're all grown-ups you can have that conversation if you want. I listened to "Smooth Criminal" on the radio after Leaving Neverland, and though I had mixed feelings about it, we all know that hearing a Michael Jackson song in the air, does not make you, by proxy, a defender of Michael Jackson.
That said, in the aftermath of Leaving Neverland, I imagine other parents have noticed what I've noticed. The careless culture of streaming music and corporate radio stations didn't really get the memo. "Pretty Young Thing" might come on at a children's store in the mall (really!) and I certainly haven't heard anyone talking about pulling "Billy Jean" from the airwaves anymore. Seemingly, everyone has shrugged on this. Again. In Dave Chappelle's newest Netflix special, he literally shrugs about the accusations against Michael Jackson. So where are we at with Halloween?
Well, for what it's worth, "Thriller" is not a song Michael Jackson wrote, nor was it originally conceived of as a Halloween song. The song was written by Rod Temperton, and originally was called "Starlight," and had a very cosmic vibe to it. Essentially, it was the brainchild of Quincy Jones, who , hired Temperton to write the song, and then, had him re-write it. To be clear, it is well documented that Quincy Jones invented "Thriller" as a concept and Temperton simply executed it. This makes, Michael Jackson, like the third-most relevant person in terms of why you like "Thriller." Sure, it was still sung by Jacko and he invented the famous dance that went along with it, but really, in this case, the art itself has little to do with him. That classic music video is just as much the product of the brilliant horror-director John Landis as it is Wacko Jacko. Plus, for those Parks and Recreation fans out there, Quincy Jones is the father of Rashida Jones, and we like those people, right?
All that said, some might say that if we play Michael Jackson songs around our kids, that leads to curiosity about Michael Jackson, and that leads to the Dark Side, right? Well, maybe not. I do think parents should be a little more responsible with Halloween costumes, relative to costumes that promote violence, but I'm not sure it's worth our time to police spooky music. I mean, don't put your kids in a Michael Jackson "Thriller" costume, okay?
I mean, to be clear, I, personally, will not put Thriller the album or the song on the turntable when my daughter is around. But, if the song is playing in one of the houses where we trick or treat, I'm not going to make her run the other way, either.