3 Nachos Recipes To Make With (Or Without) Your Kids This Weekend
Courtesy of the new "Buenos Nachos!" cookbook.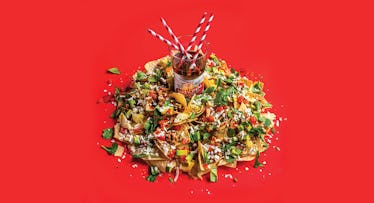 Dovetail Press
Brats, buffalo wings, and pizza all have their place. And few can say no to a deep fried log of mozzarella sitting beside a vat of marinara. But the ultimate game day snack? That honor belongs to nachos. Sure, it's partly because, in their simplest form, nachos are nothing more than tortilla chips crowned with gobs of melted cheese — and who can go wrong there? But the real reason they're so damn successful is because of their versatility. Want to smother them with pulled pork and barbecue sauce? Dust 'em with creole seasoning and blanket them with barbecued shrimp? Have at it. The tortilla chip can take it. Nachos are comfortable in nearly any form.
Gina Hamadey knows this universal truth. A food writer and self-proclaimed nacho-holic, she wanted to showcase the snack's many forms. The result is Buenos Nachos!, a simple and beautifully shot ode to towering piles of chips that contains recipes from everyone from Chef Edward Lee to Bill Hader, Colin Hanks to competitive eater Crazy Legs Conti. Below are 3 variations to make during those (very, very rare) moments when you have the time to eat a greasy assemblage of carbs on the couch. Or when you want to raid the fridge and teach the kids an impromptu lesson in dad-snacking. Both are valuable.
Ingredients:
Makes 4 servings
1 pound ground beef
1 teaspoon salt 1 teaspoon chile powder 1 teaspoon cumin 1⁄2 teaspoon freshly ground black pepper 1⁄2 teaspoon smoked paprika 1⁄4 teaspoon cayenne pepper 1⁄4 teaspoon coriander 1⁄4 cup tomato paste 1⁄2 cup water Juice of 1 lime 8 to 10 ounces tortilla chips (1 medium bag) 1 cup grated sharp cheddar cheese 1⁄4 cup chopped red onion 1⁄4 cup pickled jalapeño slices 1⁄2 cup cooked corn kernels 1⁄2 cup sliced black olives 1 large tomato, cored and diced 1⁄2 cup sour cream 1⁄4 cup bottled ranch dressing
Directions:
Heat a large skillet over medium-high heat. Add the beef and cook, stirring and breaking the meat up with a spoon, until well browned, 8 to 10 minutes. Stir in the spices and tomato paste and cook, stirring, for 1 minute. Add the water, bring to a simmer and cook until the meat has absorbed the liquid, about 5 minutes. Turn off the heat and stir in the lime juice. Set aside.
Divide the chips among 4 brown-paper lunch bags or small chip bags. (You can also serve the nachos in 4 bowls.) Divide the meat, cheese, onion, jalapeño slices, corn, olives, tomato, sour cream and ranch dressing among the bags. Close and shake the bags well to distribute the ingredients. Serve with forks.
Gochujang Chili-Cheese Nachos By Edward Lee
Makes 4 to 6 servings
Ingredients:
3 tablespoons vegetable oil, divided
2 pounds beef chuck roast, cut into 1⁄2-inch cubes Salt and freshly ground black pepper 1 small onion, fine chopped 3 garlic cloves, finely chopped 1 jalapeño pepper, finely chopped 6 tablespoons plus 2 teaspoons gochujang (Korean fermented chile paste), divided 1 chipotle pepper in adobo sauce, finely chopped 1 tablespoons brown sugar 11⁄2 teaspoons ground cumin 1⁄2 teaspoon ground coriander 1 teaspoon salt 1 cup dark beer 2 cups beef broth 1 15-ounce can diced tomatoes 1⁄2 cup sour cream 8 to 10 ounces mixed yellow and blue tortilla chips (about half a medium bag of each type) 3⁄4 cup crumbled cotija cheese 2 serrano peppers, thinly sliced
Directions:
In a large saucepan or Dutch oven, heat 2 tablespoons of oil over high heat. Season the meat with salt and pepper. Working in batches, brown the meat all over, about 3 to 4 minutes; using a slotted spoon, transfer the meat to a paper towel–lined plate.
Add the remaining tablespoon of oil to the pan and heat over medium heat. Add the onion, garlic, and jalapeño pepper and cook, stirring frequently, until softened, about 3 minutes. Add 6 tablespoons of gochujang, the chipotle pepper, sugar, cumin, coriander, and salt; cook, stirring frequently, for 3 minutes. Add the beer, broth, and tomatoes; using a wooden spoon, scrape up any browned bits on the bottom of the pot. Bring the chili to a simmer and cook until the meat is very tender, about 2 hours. Let the chili cool to room temperature and season to taste with salt. The chili can be made up to 1 day ahead.
In a small bowl, stir together the sour cream and remaining 2 teaspoons of gochujang.
Arrange the chips on a platter. Using a slotted spoon, scatter a layer of chili over the chips. Sprinkle the cotija cheese over the top. Dollop the gochujang sour cream over the cheese, garnish the nachos with the serrano peppers and serve.
Mexican Street Corn Nachos By Viet Pham
Makes 4 to 6 servings
Ingredients:
2 ears sweet corn shucked
Vegetable oil 8 to 10 ounces thick tortilla chips (1 medium bag) 1/3 cup mayonnaise 2 limes, one juiced and one cut into wedges 1⁄4 cup pickled jalapeño slices 2 cup grated cotija cheese 1⁄2 cup grated queso fresco 1⁄2 cup grated Monterey Jack cheese 3 tablespoons grated Parmesan cheese 11⁄2 teaspoons chile powder 1 avocado—halved, pitted and diced 1⁄4 cup cilantro leaves
Directions:
Prepare a medium-hot grill or preheat a grill pan over medium-high heat. Brush the corn with oil and grill, turning frequently, until charred all over, 8 to 10 minutes. Transfer to a cutting board; when the corn is cool enough to handle, cut the kernels from the cobs.
Preheat the broiler. Arrange the chips on a rimmed baking sheet and sprinkle the grilled corn kernels evenly over the chips.
Place the mayonnaise in a small bowl and add the lime juice. Whisk until combined, then drizzle the mayonnaise over the chips and corn. Scatter the jalapeño slices and cheeses over the chips, then sprinkle the chile powder on top.
Broil the chips until the cheese has melted, 2 to 3 minutes. Top the chips with the avocado and cilantro and serve with the lime wedges.
This article was originally published on