Turns Out, Bruce Willis Was in EIGHT Movies Last Year that Nobody Saw
He's even got his own awards category now.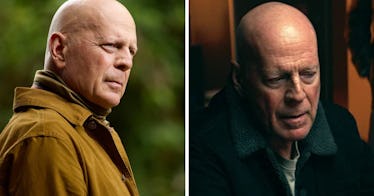 Lionsgate; Paramount Pictures
The Oscars are full of glitz and glamor for celebrity actors but the Golden Raspberry Awards, known better as the Razzie Awards, knocks them down from their pedestals. This parody award show honors "the worst of cinematic under-achievements," and this year they created a whole new category, a special one, just for Bruce Willis.
Bruce Willis is a Hollywood staple. He's one of the original action stars and he's been around since the early '80s. His catalogue of movies is impressive, and many of the titles have become classics. The Die Hard franchise, there was Pulp Fiction and 12 Monkeys. Can't forget The Fifth Element, Armageddon, or The Sixth Sense, too. He's no stranger to accolades either. He's won People's Choice Awards, Primetime Emmy Awards, and a Golden Globe.
In his decades-long career, he's done more than 100 movies, and there's a reason we probably can't name all of them. He seems to have more a quantity vs quality approach to his career. Did you know Bruce Willis starred in eight movies in 2021? I had no idea, and I'm a long time Willis fan, but it's true and they all probably sucked because he's now got his own special award Razzie category.
The special category, Worst Performance by Bruce Willis in a 2021 Movie, lists all eight of the movies he starred in this year. All of them sound very Bruce Willis including:
American Siege
"An ex-NYPD officer-turned-sheriff of a small rural Georgia town has to contend with a gang of thieves who have taken a wealthy doctor hostage."
Watch or rent it on Amazon Prime Video, Redbox., Apple TV, or VUDU.
Fortress
"A group of criminals hellbent on revenge, forces a retired officer and his son to save the day."
Watch or rent Amazon Prime Video, iTunes, VUDU, or Google Play.
Apex
"Six elite hunters pay to hunt down a man on a deserted island, only to find themselves becoming the prey."
Watch or rent on Amazon Prime Video, Apple iTunes, or Google Play.
Deadlock
"An ex-military man working at a Georgia power plant has to spring into action to prevent disaster when a group of rogue soldiers gain control of the plant and take the employees hostage."
Watch or rent it on Tubi, Redbox, Amazon Prime Video, or Apple TV.
Survive the Game
"A man's life on his farm is interrupted when a cop and a pair of dangerous criminals show up."
Watch or rent it on Amazon Prime Video, VUDU, Vudu Movie & TV Store, Apple TV or Redbox.
Out of Death
"A corrupt Sheriff's department in a rural mountain town comes undone when an unintended witness throws a wrench into their shady operation."
Watch or rent it on Hulu, VUDU, or Google Play.
Midnight in the Switchgrass
"An FBI agent and Florida State officer team up to investigate a string of unsolved murder cases."
Watch or rent it on VUVU, Google Play, or iTunes.
Cosmic Sin
"Seven rogue soldiers launch a preemptive strike against a newly discovered alien civilization in the hopes of ending an interstellar war before it starts."
Watch or rent it on Google Play, Vudu, Amazon Instant Video, or iTunes.
Now none of these are going to be trendsetters or get any of the big movie awards. But if you're bored and need a classic Willis movie, these all look like they're going to deliver exactly what you need. Oh, and it looks like he's got just as many titles coming out in 2022, as well.