Bruce Springsteen's 'Letter To You' Movie Is a Must Watch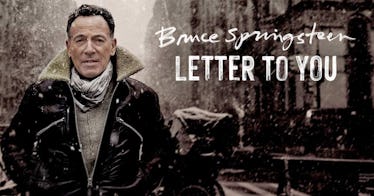 Apple TV+
Bruce Springsteen was born to run, but he's spent much of the past decade looking back. Cases in point: his 2016 autobiography, Born to Run; a 2016-2017 tour revisiting The River; an extended run (2017-2018) of Springsteen on Broadway; and the 2010 box set, The Promise: The Darkness on the Edge of Town Story. Now add to that list Letter to You, a 91-minute film that documents the making of the new Bruce Springsteen and the E Street Band album of the same name.
Lifelong members of the E Street Nation will embrace Letter to You – album and film – as warmly as Springsteen embraces his bandmates and fans. Non-fans will be left dancing in the dark. The film is shot in glorious, stark black and white by director Thom Zimny, who has helmed numerous Springsteen music videos as well as Springsteen on Broadway and last year's Western Stars. Zimny assumes that viewers know and love the Boss and his band, Little Steven Van Zandt, Patty Scialfa, Roy Bittan, Max Weinberg, Jake Clemons, Nils Lofgren, Garry Tallent, Soozie Tyrell, and Charlie Giordano. Zimny also figures that everyone is aware of the band's history, how they met, their long estrangement and subsequent reunion, etc. So, he focuses on the band in well-oiled-machine mode, recording – live — 10 of the 12 songs that comprise Letter to You. Most of the tunes are brand-new, but three of them (two of which are performed in the film) date back to the 1970s and were early Springsteen demos tinged with Dylan influences.Springsteen, via voiceover, sets up each song. His narration and the songs themselves, for better or worse, evoke classic Springsteen images and themes: trains, darkness, friends and lovers, connection, hope, reflection, mortality, and the healing power of rock and roll. Devoted fans have for decades either appreciated or tolerated Springsteen's heartfelt but flowery, wistful, even syrupy ruminations, though they feel particularly justified in Letter to You. Springsteen is 71 now and, having already lost E Street Band stalwarts Danny Federici and Clarence Clemons, he again felt his own impermanence with the death of George Theiss in 2018. Theiss and Springsteen were members of Springsteen's first band, a high school group called The Castiles, and they played together from 1965-1968. Upon Theiss's death, Springsteen became the "Last Man Standing," the title of one of the album's most resonant songs. Theiss's passing in part prompted Springsteen to reassemble the E Street Band for Letter to You, their first proper album together since High Hopes in 2014. The Letter to You sessions took place over five days — four recordings, one listening to playbacks — at Springsteen's New Jersey home studio. He leads the proceedings like a benevolent dictator. He is, literally and figuratively, the boss. The E Streeters work for him and he gets the final say. It is not an equal partnership. Everyone contributes, though. As they prep, there are laughs aplenty, suggestions made, and used, and there's pure joy and familiarity in the room. The shorthand amongst the musicians is a marvel, and the spirits of Federici and Clemons linger in the air; try not to cry a little when Zimny cuts to Federici's organ or a piece of tape that reads, "Clarence."But, it's a revelation to note that as the band sets about actually recording the final take of each full song live, they're pure business. Only Weinberg comes close to cracking a smile while chewing gum and bashing his drum kit. It's after the songs end, while separately recording claps and la-la-la's, and again when each day of recording concludes, that everyone celebrates and Springsteen lauds his friends and collaborators. Quite sweetly, a couple of Letter to You songs are Springsteen's odes to the band, including the album and film's best, most ass-kicking track, "Ghosts," which begs to be played for 50,000 raucous fans at Giants Stadium – and hopefully will one day. "Ghosts" is the film in a nutshell. It's about how the E Street Band has informed, and energized Springsteen and his music, and helped him express himself for 45 years and counting.
If for whatever reason, Letter to You is the outfit's last album, they're going out in style, brothers and sisters in arms, guitars blaring – and the film would stand as a memorable testament to their enduring power and essential role in breathing life into Springsteen's songs.
Letter to You is streaming now on Apple+.
This article was originally published on