Boba Fett Needs the Best Dad in Star Wars To Fix His Show
Is Boba Fett's book feeling a little thin?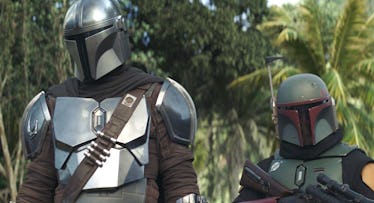 Credit: Lucasfilm
Can Boba Fett carry his own show? Back when The Mandalorian was first announced, the idea of a gunslinger, faux-Boba Fett show seemed to some, hopelessly regressive. And, before 2019, it also felt odd to Star Wars fans that a Boba Fett lookalike would get his own show, rather than Boba himself. However, The Mandalorian, ultimately, became the best and most healthy example of parenting in all of Star Wars and quickly left our love of Boba Fett in the dust.
So now, in a strange inversion, Mando is king, and Boba is playing second fiddle. It looks like the coolest, and best dad in Star Wars is the only hope of bailing out Boba Fett. Mando is Boba's only hope, which doesn't speak well of Mr. Fett's meandering Book. Spoilers ahead for The Book of Boba Fett through Episode 4.
Unlike the near-universal praise of both seasons of The Mandalorian, depending on who you ask about The Book of Boba Fett, your parsec mileage will vary. For the Star Wars faithful, it's cool to look at, and for grizzled cynical fans of my generation, seeing Boba pew-pew the Sarlacc Pit is, admittedly cool. However, because the show is obsessed with showing us a bunch of stuff that Boba Fett did, it's hard to really see what kind of story it's trying to tell. We're over halfway through the seven-episode run of Boba's Book, and it's tough to say, thematically, what this story is trying to do. When Boba Fett returned, rocking his dad bod unashamedly in The Mandalorian Season 2, it felt like his own series might be about an older guy getting his mojo back.
And, in fairness, on paper, that's pretty much what The Book of Boba Fett is; a story about an amoral guy got slightly more moral. However, didn't we just see this? When The Mandalorian started, our titular helmeted badass was killing people for money, and then, slowly became a loving parent and ethical human being. The overall arc for the first two seasons of Mandalorian was kinda like James Bond becoming a father in No Time To Die, but instead of dying in one moment of fatherhood heroics (played out!), Mando got to live and love another day.
Now, thanks to a not-so-subtle musical cue at the end of the fourth episode of Boba Fett, Mando is on his way back to Star Wars. This is good news for many reasons: Mando is a likable character, it's exciting to see how he's coping with Baby Yoda's absence, and, for the first time in the Boba Fett series, it feels like the story is moving forward.
There's a deep irony that the Mandalorian — a character who owes his aesthetic linage to Boba Fett — is now required to put some juice into the show about Boba Fett. Even the biggest fans of The Book of Boba Fett might admit that, at this point, the story is dragging a bit. Boba Fett's flashbacks have resolved. Boba Fett's futile attempt to get his armor back is resolved because we already knew he got it back. Boba Fett's five years in the desert makes almost no sense based on what we've seen, and why Bib Fortuna left his ship in the parking garage of Jabba's Palace is so inexplicable it's almost laughable.
So, going into its final three episodes, Boba Fett has decided to let the plot-hole-infested past die, and the show is willing to kill it if they have to. The only way for the show to stick the landing is to move forward.
This is why they need Mando. Even when Boba Fett gave us the Baby Rancor (a faux Baby Yoda?) the show wasn't confident enough to go hog wild with that premise. One episode after that cute monster was introduced, he was back down in his cage, relegated to just some claws poking up through a vent in the following episode. Which is a kind of metaphor for all of The Book of Boba Fett. If the show has any emotional hooks, it seems afraid to let those sink in. Instead, the story is scattershot, daring the audience to care about something — the Tusken Raiders, the Mod Biker Youths, the Baby Rancor — and then, just as quickly saying, no, never mind.
Now, after seemingly exhausting a bunch of false-starts, the narrative has swerved back into reliable territory, cool dad Din Djarin. It's unclear if Pedro Pascal will actually appear unmasked on-screen with Temuera Morrison, but if that does happen, it will doubtlessly be awesome. But, if Mando's eventual cameo on Boba Fett becomes the highlight of the series, it will prove only one thing: The allure of Boba Fett has been eclipsed by The Mandalorian utterly. The learner will have become the master and The Book of Boba Fett will feel more like a commercial for The Mandalorian Season 3, rather than its own show.
Jango Fett, Boba's father, said he was just a simple man trying to make his way in the galaxy, a sentiment which Boba echoed in The Mandalorian. But, what The Book of Boba Fett has shown us thus far, is that maybe, that credo is too simple. In the imaginations of '80s and '90s kids, Boba Fett would never need help. But now, he's desperate.
The final three episodes of The Book of Boba Fett air on Disney+ over the next three Wednesdays, with the finale arriving February 9.
This article was originally published on