'Black Widow' Still on Track for a Typical Theatrical Release
The movie is set to release May 7, 2021.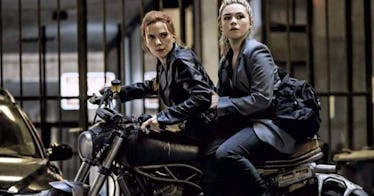 Disney
Movie production companies had to get creative in their release strategies over the past year. Trying to bring major budget movies to the masses without having access to the typical release strategies put a pivot in many plans. Some companies halted production, but others moved to a streaming model, including Disney. Disney, which oversees Marvel movies, tried the streaming-only strategy a few times. It worked, and it didn't, but for their upcoming Black Widow release, the company is hoping to rely on the old methods – at least for now.
According to Deadline, Disney CEO Bob Chapek announced during the company's December investor day that the plans for the long-awaited Black Widow film include having a traditional theatrical-only release.
"We are still intending for it to be a theatrical release," Chapek said on Feb. 11, 2021, during an investor call. "We are going to be watching very carefully to see whether that strategy needs to be revisited," he added. Chapek didn't confirm that the movie, which is slated to be released on May 7, 2021, is on track to hit that calendar date.
It's not clear if the plans will favor a date change over revisiting the theatrical-only strategy and the movie release has already been delayed several times. Black Widow was originally scheduled to be released on May 1, 2020, then it was pushed to Nov. 6, 2020, before landing on the current release date in 2021.
There's been some speculation on whether Black Widow would debut on Disney+ amid the continuing pandemic and the temporary closure of movie theaters as a result. Disney pivoted its release strategies for both its live-action rendition of Mulan and Pixar's Soul, which skipped movie theaters and instead were available for premium prices on its streaming platform.
The streaming-release strategy is also the plan for the upcoming live-action Pinocchio remake, so it's not too clear why they're so hard-pressed to keep the theatrical release for Black Widow. According to Chapek, the decision to put a title release in theaters or Disney+, "depends on our slate of titles and whether we need to put something on the service."
This article was originally published on