Here's Why Everyone Is Binge-Watching Tiger King, And Why You Should Too
The bonkers docu-series follows the unbelievable underworld of the big cat trade in the United States.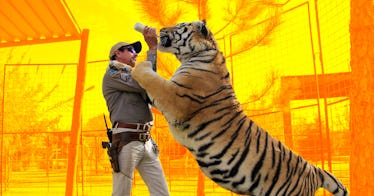 Netflix
Tiger King: Murder, Mayhem, and Madness, a docu-series that premiered on Netflix just 11 days ago (or in Coronavirus-time, three years) seems to have lit the internet aflutter. Look at Twitter, Instagram or Facebook and you'll see spoilers, memes, and constant intonations of "Carole killed her husband." But who is Carole? Why did she kill her husband? Who is Joe?
The show, which tells the true story of the twisted world of the private ownership of big cats like tigers and panthers across the United States, and the fight on both sides to either end or propagate the practice, is an absolute rollercoaster of a ride.
What Is It?
Largely following Joe Exotic, the so-called Tiger King of Greater Wynnewood Zoo in Wynnewood, Oklahoma, the 7-part documentary takes twists and turns that feel unthinkable. It's surreal, tragic, funny, and confounding all at once. Other major players include Carole Baskin, the operator of Big Cat Rescue, who aims to end the private sale and trading of big cats in the United States and provides a sanctuary for big cats that are no longer profitable in the private cat system, Jeff Lowe, a conman who now owns Joe's zoo, and Bhagavan "Doc" Antle, a private cat owner and zoo-runner in South Carolina who sure looks like he runs a sex cult of big cat handlers who live on his property. The show follows Joe and Carole's feud up until the point that Joe is put in prison for wildlife crimes and for hiring a hitman to murder Carole Baskin, but it's the details about every major player's life that are mind-bogglingly surreal, not necessarily the murder part.
Why Are People Binge-Watching It?
Not including all of the information above, the twists and turns in the story — which include several marriages, allegations of abuse of power and sexual intimidation by Doc Bhagavan, FBI informants, the fact that people believe Carole Baskin murdered her first husband, and more, are an absolutely bonkers ride. There's no way to know where the story is going next, and every single person who is involved in the show is certifiably kooky.
Why You Should Watch It
It's fun. It's interesting. You learn a lot about a world you'd probably never learn about. It's a true-crime show that does not at all follow the path you'd expect. And, namely, it's so different, so uninvolved with the world that we currently are living in and experiencing, that maybe for an hour every night, you can take your mind off the madness. Plus, if the final episode leaves any indication, there's much more to come from the major players of Tiger King.
Plus, once you start seeing the characters from the show (and make no mistake, they are characters) you'll notice how ingrained they are in Hollywood. Doc Antle, for example, was on stage for Britney's iconic "Slave 4 U" performance where she wore a snake on her shoulders. Carole Baskin was in the audience at that very performance. Shaq visited the Greater Wynnewood Zoo. Kate McKinnon was recently tapped to portray Baskin in a new, fictional TV series. The ties to big cat culture run deep.